3 days of camping meals including breakfast, lunch and dinner plus tips for storing food and a shopping list!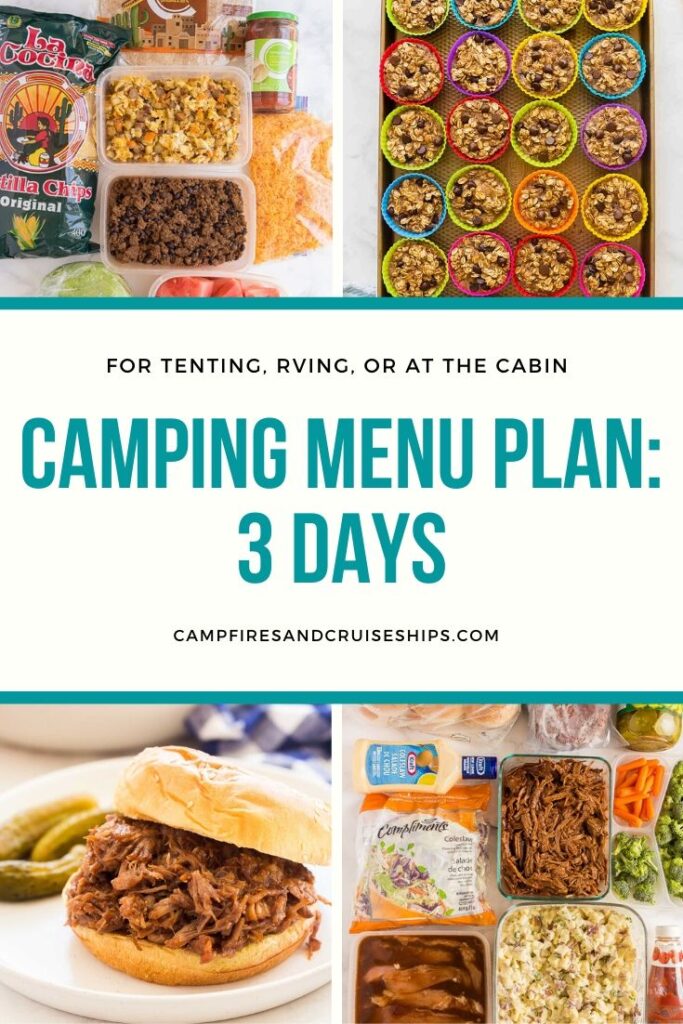 New here? See my first 3 Day Camping Menu Plan here.
We've been having a lot of fun experimenting more with our camping food, so I've committed to sharing most of our camping menus here throughout the summer.
This is our second, but I've got a few more up my sleeve!
I would love to hear your feedback on these menu plans — if they're helpful, or how they could be more helpful, so please leave me a comment below and let me know!
GENERAL CAMPING FOOD TIPS:
You can get as creative as you want with your camping food, but here are a few tips for prepping your camping food to make it more enjoyable once you're out!
What ingredients can be doubled up for multiple meals? Simple things like a large bag of shredded cheese, a bottled sauce or condiments, or a loaf of bread or bag of buns. Grabbing one ingredient that does double (or triple!) duty can be a big time and space saver.
What can be completely cooked ahead of time and simply reheated? If you are reheating food, you have a lot more flexibility as to how it will be stored or cooked and it will make your time away much more relaxing!
What kind of cooking dishes and utensils do you have at your disposal? Do you need to plan for cast iron cooking? Foil packs? Only on the campfire, or only on a barbecue or stove?
How long do you need to keep food for? Are you stuck with a cooler and ice or do you have a fridge or freezer? Different foods have different life spans outside of a refrigerated environment.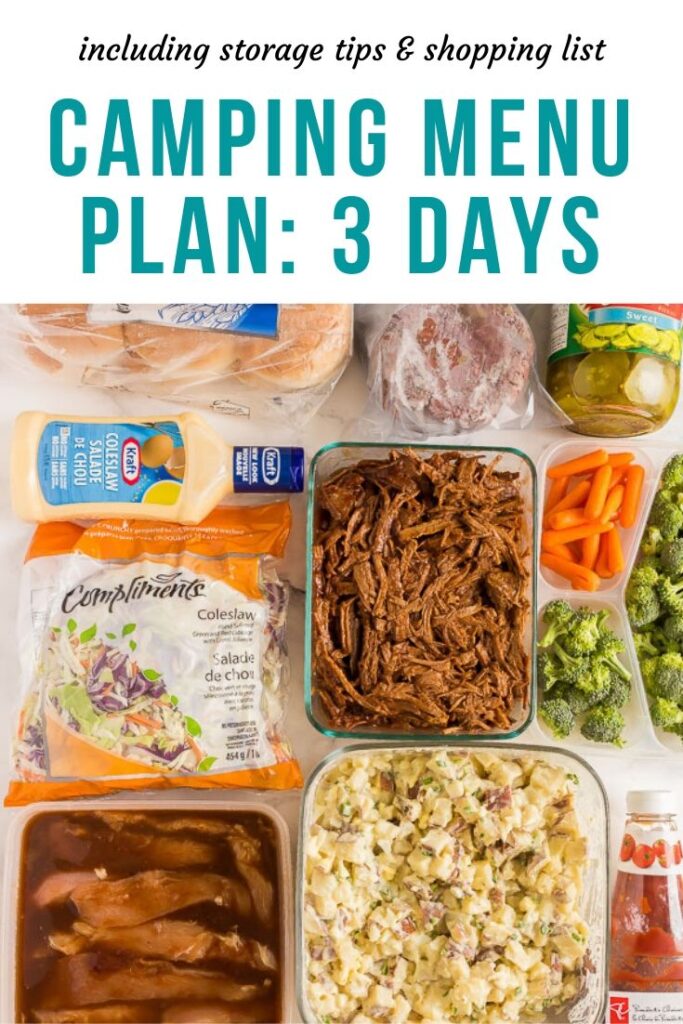 How this Camping Menu Plan works:
When I plan our food for camping I usually plan on:
3 dinners
3 breakfasts
2 lunches
We usually end up with some leftovers from other meals that we eat for lunch on the day we leave, but if you want to plan for 3 lunches just check out my first camping menu plan above for more ideas!
3 Day Camping Meal Ideas:
Camping breakfasts:
Bacon, eggs and toast — this is an easy one, because we just throw all of the ingredients in before we leave and cook everything at the campsite. And by we I mean Garrett, so this is an even easier one for me (Ashley).
Cinnamon Buns — takes quite a bit of prep but I had a real hankering. The nice thing is you can bake them completely, and then they don't need to be refrigerated. You can reheat them before eating or not.
Banana Muffins and Banana Oatmeal Cups — I brought a dozen of each and we had lots, so these doubled as snacks. Another great one that doesn't need to be refrigerated, and can be eaten room temperature or warmed.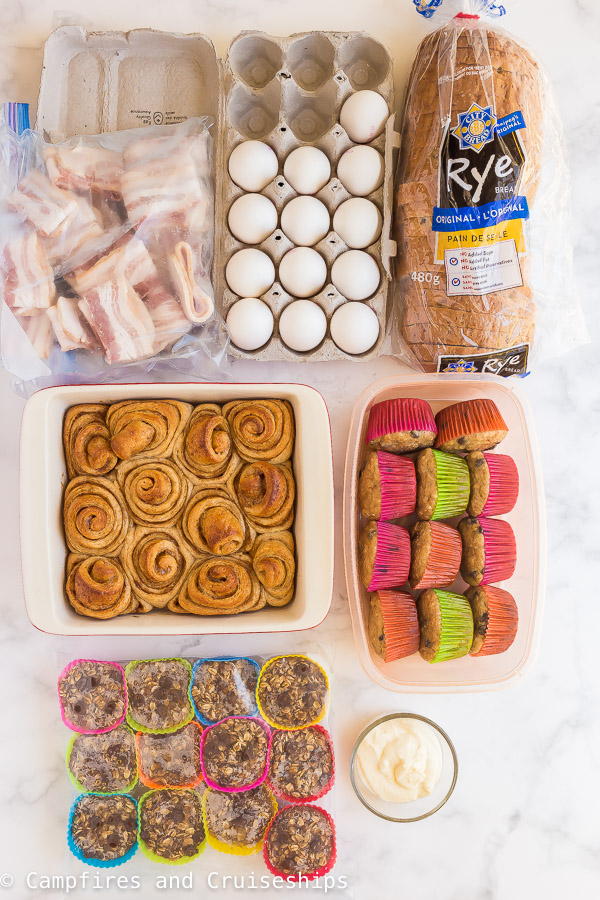 Camping lunches:
Taco Salad: for this, I cook and season the ground beef ahead of time. Cooked ground beef is easier to store and since we eat it cold on salad anyway, this works out perfectly. Serve with lettuce, shredded cheese, salsa, and tortilla chips.
Breakfast Burritos: I cook the egg filling completely before we leave, as cooked foods are usually easier to transport. These Breakfast Burritos reheat perfectly over the fire, on the griddle, in the microwave, or can be eaten cold.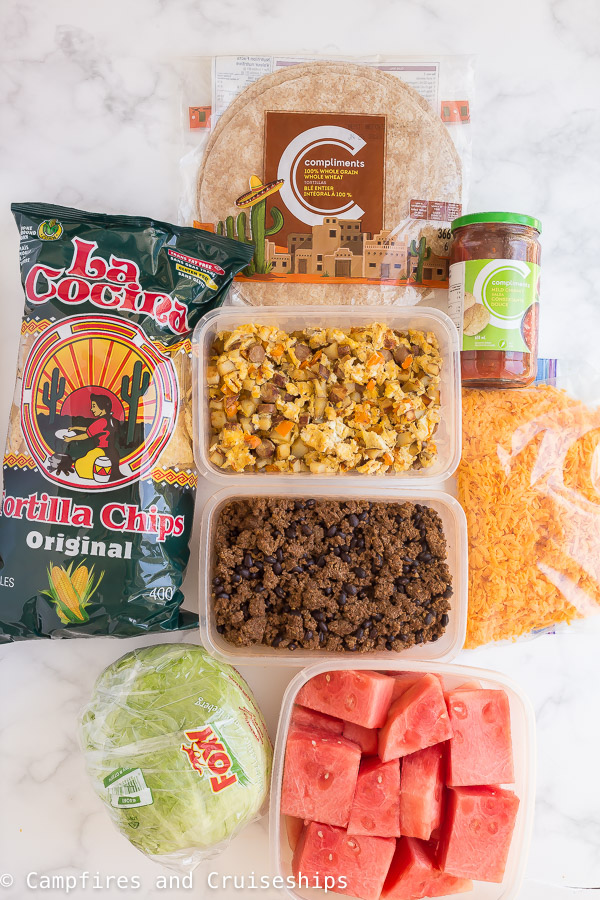 Camping dinners:
Burgers: I make my own, flash freeze them and transport them that way. Bring buns and your favorite toppings!
Pulled pork: another thing I cook completely and just reheat. It reheats perfectly so there's no need to drag a lump of raw pork along! It can be transported chilled or frozen, and reheated any way: on the fire, in a foil packet, in the microwave, in a slow cooker, on the barbecue. Bring buns, or serve with cold salads. This time, I brought potato salad, cole slaw and raw veggies.
Marinated chicken skewers: I sliced up some chicken breasts and stored them in a simple marinade of barbecue sauce and hoisin sauce. Marinating chicken can also be frozen, if you're dragging a cooler along. Simply skewer and grill or cook over the fire. I served these with the same sides as earlier: cole slaw, potato salad, and veggies.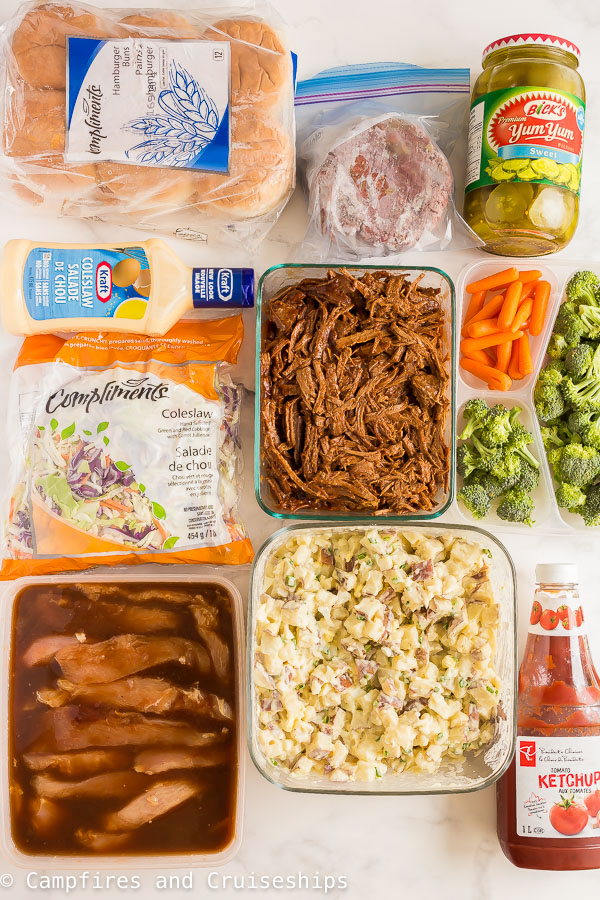 Sample 3 Day Camping Menu Plan:
You can rearrange these meals any way you like, but here is a quick overview of how we did it:
Click here to download a PDF (perfect for printing or saving to your phone) of this meal plan.