A list of our favorite restaurants in Winnipeg: casual, family friendly, breakfast, brunch or dinner!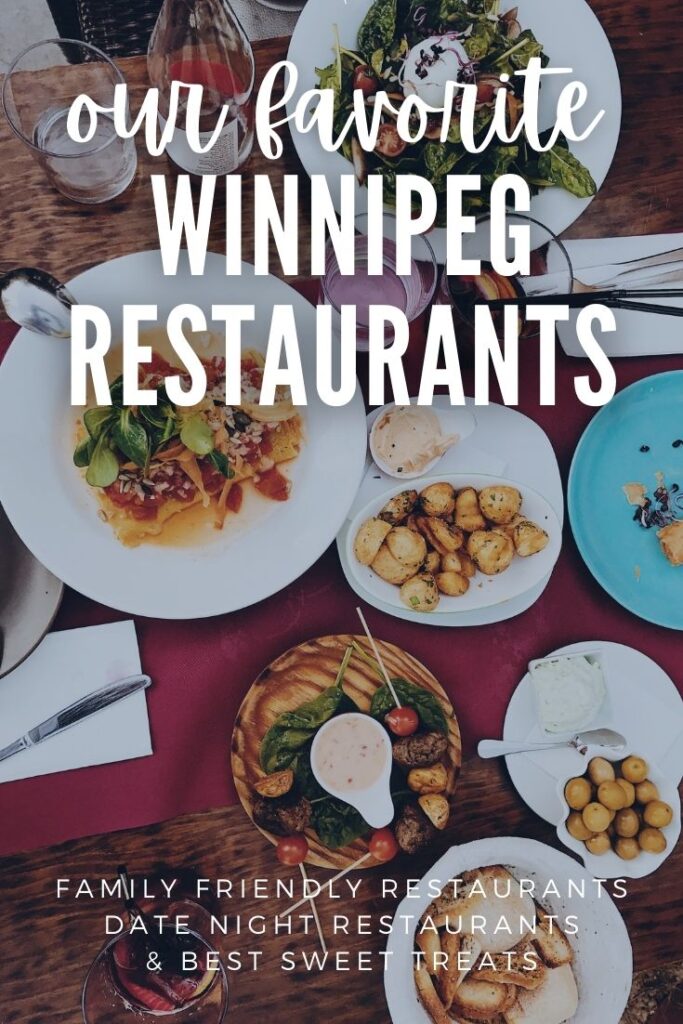 This might surprise you, since we are out of the city a ways, but we really love finding neat little eateries in the city whenever we can.
So this list has taken me a little longer to put together than it would if we were in the middle of it all, and it's still not complete.
But I wanted to get a start on it, and I will add to it as we get to them!
If there are any Winnipeg restaurants we must try, please let us know in the comments.
Before I get started, know that we have 3 kids 8 and under and our dining choices usually reflect this. Formal and stuffy? Not so much our thing.
Really great food, a fun vibe, and a relaxed atmosphere are things we love.
Best family friendly restaurants in Winnipeg:
Miss Brown's: although small (so not always great for big groups), Miss Brown's has a laid back, vintage vibe that we love. There are classic menu items that the kids love, a good selection of smoked meat for Garrett, and more adventurous offerings for those wanting to try something new.
Stella's: so we have a thing for all day brunch. We've enjoyed many, many meals at Stella's (brunch and otherwise) over the last decade or more, and it's still a favorite. The food and service are always great!
Kevin's Bistro: although us rural folk don't often get to the exchange district with our littles in tow, Kevin's is a great place for the family, offering inventive spins on mac and cheese and more! It's updated comfort food that the whole family will love.
Red Top Drive In: who doesn't love a great drive in with amazing food? The Red Top Drive In has history in spades and some of the best burgers, hot dogs, and fried chicken in the city (and like any great diner, all day breakfast!)
Date night restaurants in Winnipeg:
These are some of the places we have gone on date night, that might not be as kid friendly as most of the places we tend to go for.
Everyone needs a night out now and then!
Peasant Cookery: We went here a while back and were blown away by the quality of the food. Everything was the best ______ we'd ever had, and it has that great downtown Exchange District vibe.
Clementine: Not that Clementine isn't a family friendly place, but the food is a little more elevated than our children would prefer (i.e. the menu is small and no "toast and eggs" in sight). We absolutely loved it — the incredible food and the warm and cozy location.
529 Wellington: If you have a chance to go in the summer and sit on the patio, do it. It is such a beautiful setting, the service was spectacular, and the steak was perfect.
Sweet Treats in Winnipeg:
Jenna Rae Cakes: we've been indulging in their cupcakes and cookie sandwiches for years now. They are over the top and equally as stunning as they are delicious. (PSA: Don't leave without a Toffee Salted Caramel Cookie Sandwich!)
Dug and Betty's Ice Creamery: An ice cream shop like no other, Dug and Betty's offers small batch ice cream and gelato with fun flavors such as Strawberry Honey Balsamic Pepper and Dark Chocolate and Sour Cherry. You'll be back 😉
Sargent Sundae: The ice cream stop we frequent most often in Winnipeg because of its convenient location across from Assiniboine Park, Sargent Sundae offers a wide selection of hard and soft ice cream creations as well as take home treats.
BDI (Bridge Drive In): The BDI has a loyal following in the Peg, and some of the best ice cream and most creative concoctions! Grab a Goog and stroll across the bridge over the river with that special someone 😉
Chocolatier Constance Popp: for the chocolate lovers! Chocolatier Constance Popp creates their own chocolates right from the bean. Everything we've had is incredible, and we've taste-tested a few 😉
Winnipeg Restaurants we want to try soon!
As we get to visiting these, we'll update our post and include our favorites!