A detailed review of the Carnival Horizon cruise ship, including rooms, restaurants, activities, family-friendliness, and more!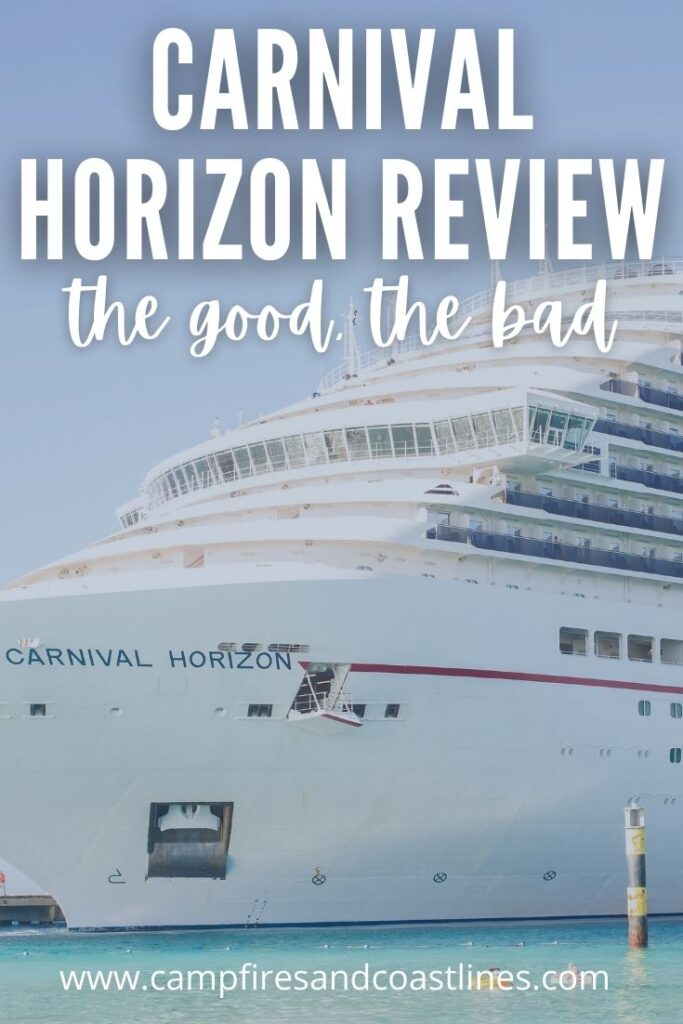 I know, it seems like a weird time to be writing cruise ship reviews, with all that is going on in the world.
However, I never got around to writing out review last Spring when we started this blog, since we wanted to focus on our camping adventures, and now winter has come and we still can't go too far from home.
I like to think that the day is coming soon-ish when we'll be able to travel freely again and enjoy the sights of the world, and when we won't be so wary of cruise ship travel.
We have always loved cruising, as a couple and a family, because we get to see many different places in a short amount of time.
Plus, we love that you don't have to unpack and drag your bags around from place to place. Each night, you can return to the same room to relax and unwind, and plan the next day's adventure.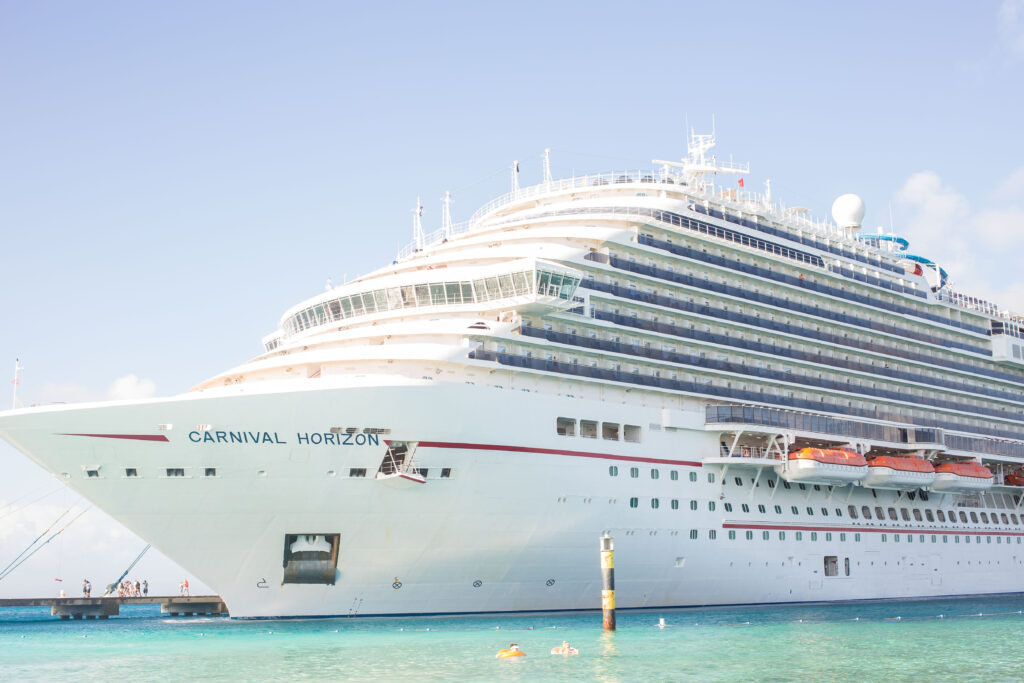 In December 2019 we had our first experience (and obviously our only) on the Carnival Horizon, and I've been waiting to share our experiences (on this blog we hadn't yet started!) ever since.
And so here it is: the good, the bad, the unfortunate. No sugar coating here!
Carnival Horizon ship and layout:
The Carnival Horizon is one of the more recent additions to the Carnival fleet, launched in 2017.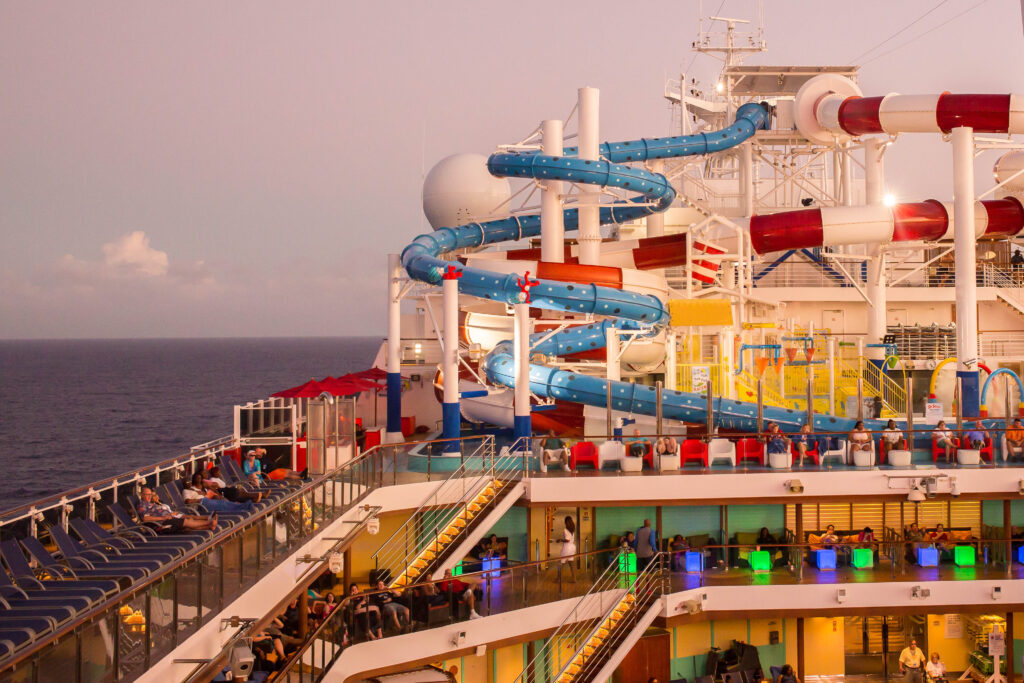 We choose the Carnival Horizon for a few reasons, but the biggest pull for us were the new Family Harbor rooms and suites.
With a family of 5, it can be difficult to find a room — on a cruise ship or a in a hotel — that is comfortable and allows everyone a bed to sleep in.
It had been 3 years since our last cruise on the Carnival Sunshine, we were excited to experience one of the newest ships and see all that might have changed!
Pros:
The Carnival Horizon is a blast to be on, like all of the Carnival ships we have had the pleasure of experiencing.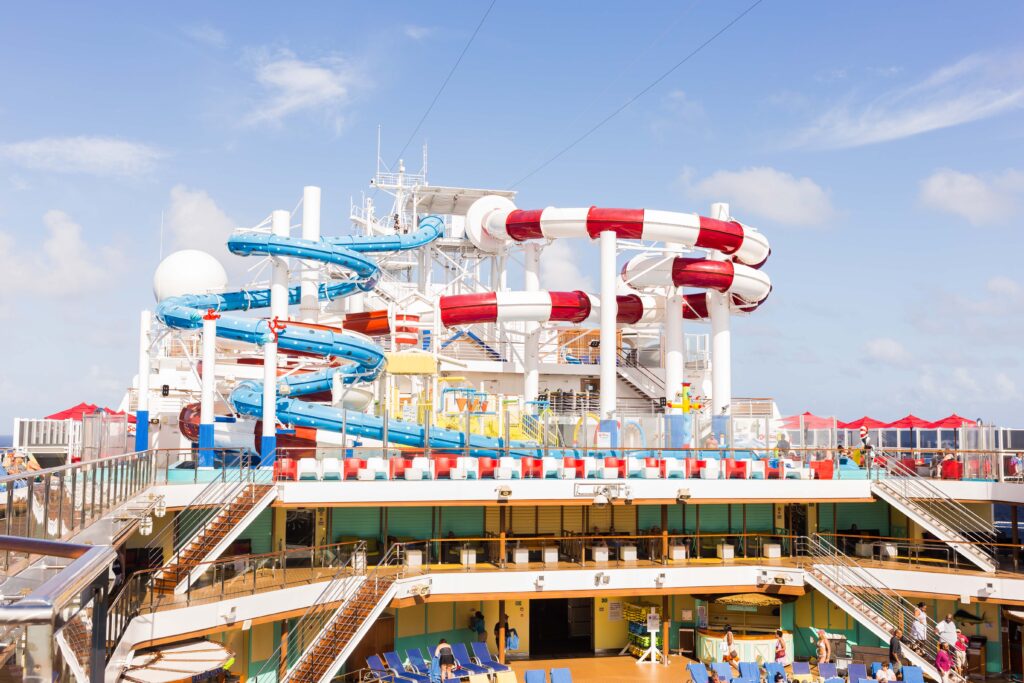 It has lots of options for dining (many of them included), the staff is excellent, and it will only take a day or two to figure out how to operate the new elevators 😉
Cons:
The feel and decor on the Carnival Horizon is really not that different from older ships, and there are a couple of things that left me wanting better from Carnival.
Considering there is smoking permitted in the casino, which is essentially in the middle of the ship, I found that the entire interior of the ship had a slightly smoky smell.
I understand Carnival's desire to rake in the dough from people in the casino, but as a cruise line that is often promoted as a family-friendly vacation option, I think the casino should be located at one end of the ship, opposite the playground and water park.
My second beef?
It seemed we were always walking through the designated smoking areas to get to the kids' playground.
What?!
With a little more forethought, this would be easily avoided. I think it would be in Carnival's best interests to put the healthy and safety of all guests, including children, first.
Carnival Horizon rooms:
The biggest reason we were set on the Carnival Horizon is because of the addition of the Family Harbor area, including family rooms and suites.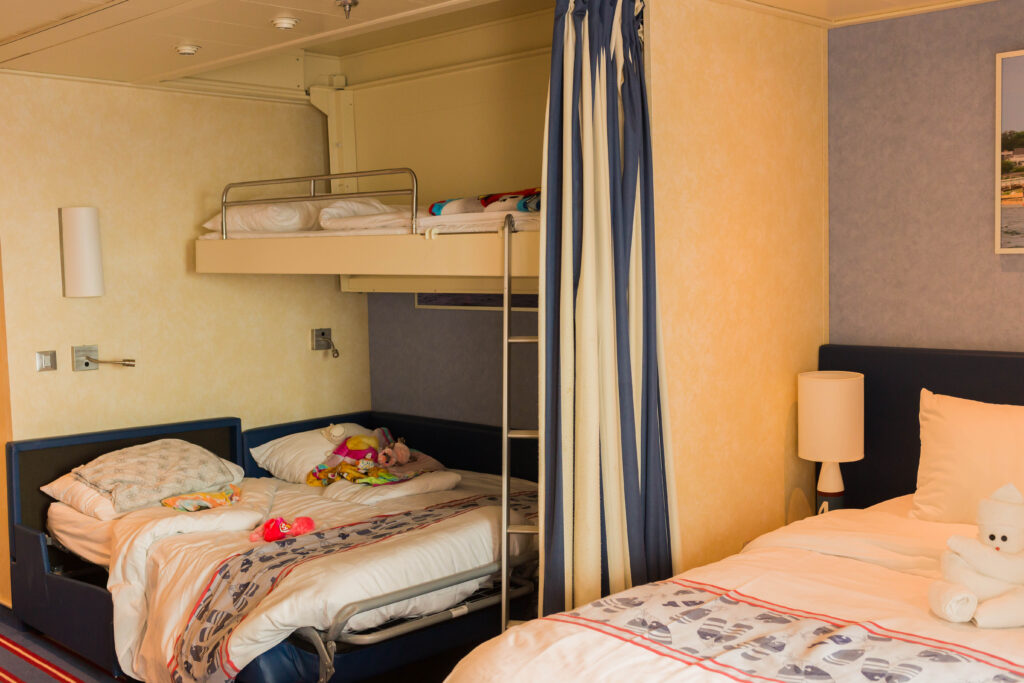 We splurged and snagged a Family Harbour suite, which was worth every penny because the kids had their own (small space), everyone had a bed, and there was a large walk in closet and two bathrooms (one toilet, but a bathtub and a shower).
Cruise ship rooms are notoriously small, but we had enough space for everyone to spread out (a little 😉 ), and the room was just a few doors down from the Family Harbor lounge, which offered a light breakfast, lunch and snacks throughout the day.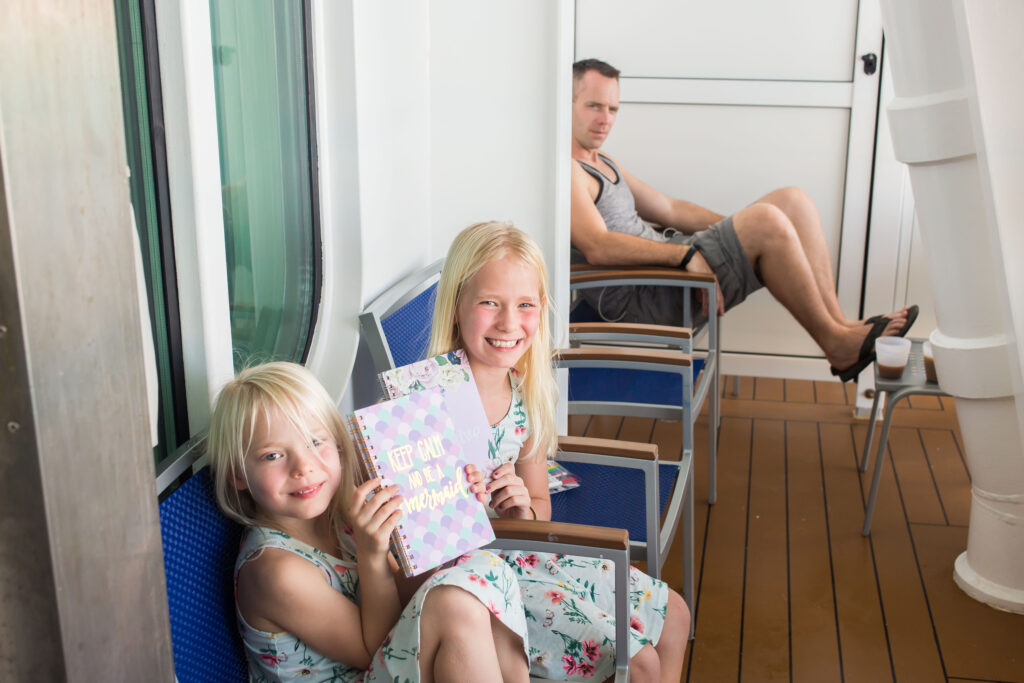 We loved being able to grab a quick breakfast in the lounge before a busy day in port, or refill snacks and drinks in the room without navigating the elevators.
Carnival Horizon food and restaurants:
We have always enjoyed the food on Carnival's cruise ships, but there were a few clear winners on this trip, and a few clear losers.
Carnival Horizon restaurants we loved:
Guy's Pig and Anchor Smokehouse: We only went to Pig and Anchor for lunch when it is free, but we absolutely loved it. The food was incredible, some of the very best on the ship: juicy smoked meats, beans and incredibly creamy mac and cheese.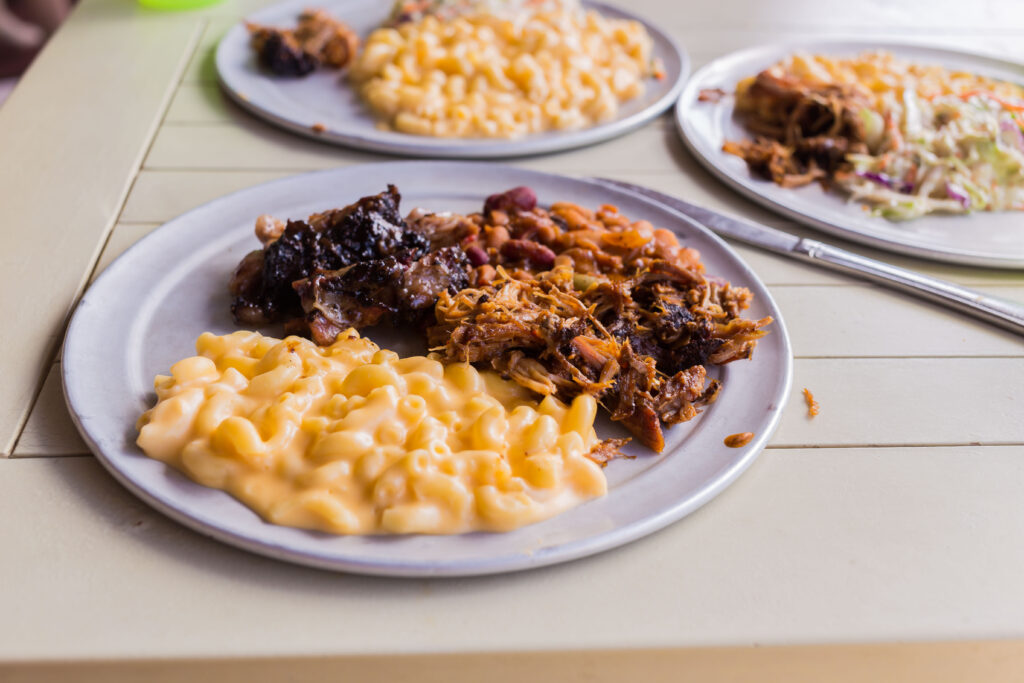 BlueIguana Cantina: who doesn't love tacos? The BlueIguana is one of my favorite stops for breakfast — they offer breakfast tacos, breakfast burritos, arepas, and huevos rancheros. Every meal at the cantina is included on the Carnival Horizon.
Guy's Burger Joint: sometimes you just need a great burger! The burgers are juicy and the fries delicious but could be a little crispier, if you ask me.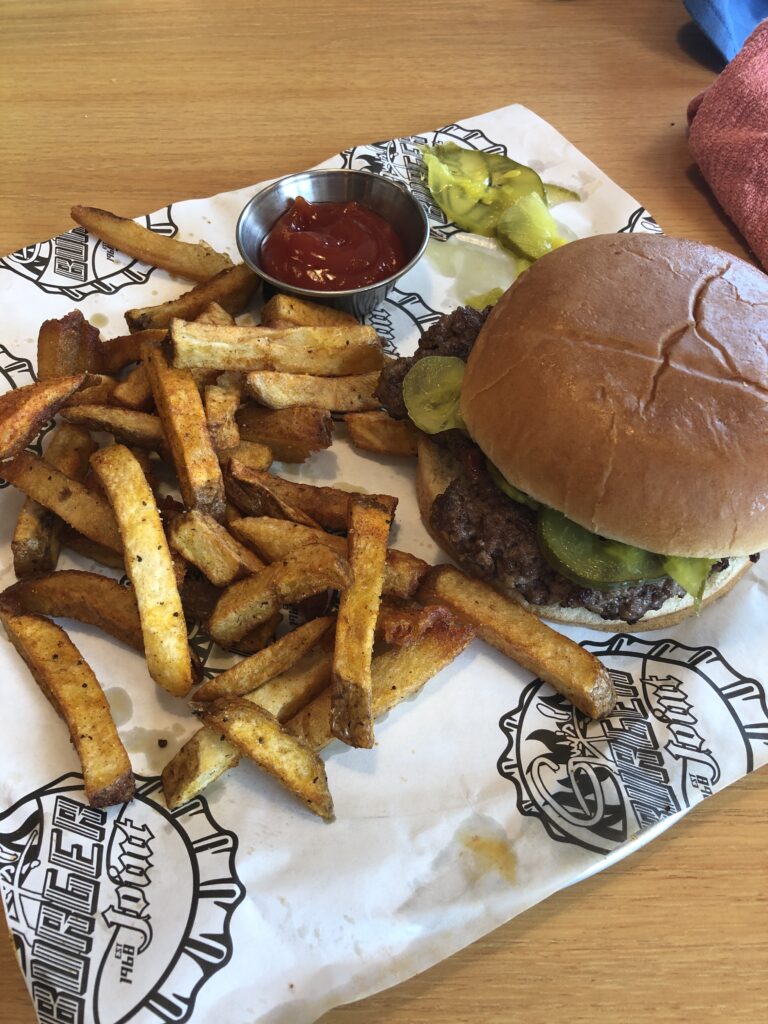 Cucina del Capitano: while we only visit the Cucina for lunch when it is a free, made-to-order pasta bar, we've loved everything we've eaten there!
Pizzeria: Pizza just doesn't get more authentic than this. We love the thin, chewy Italian-style crust and the wide variety of toppings. We also love that it's hot and fresh and we can get it any time of day!
The Dining Room – dinner: Normally, we really enjoy going to the dining room for dinner. Our experiences in the dining room on the Carnival Horizon for dinner were still pretty great, the staff is very attentive and most of the food was really great.
Carnival Horizon Restaurants we found lacking:
The Dining Room – breakfast and brunch: This was one of the most disappointing moments of our entire stay. We have visited the dining room for breakfast and brunch on previous cruises, and every other time it has been fantasic. Fresh, hot, and a step or ten above what you find at the buffet. On the Carnival Horizon? The items we ordered from the menu were not at all what what came to our table. Instead of the fresh, hot, elevated brunch items that were listed on the menu, we got stale, cold leftovers from the buffet. I don't think any of us finished our breakfast, and we ended up going to the Lido to get some fresher food.
The Lido: The buffet on the Lido deck is fine, but a buffet is a buffet. The food is not that fresh, and the quality is hit or miss. Breakfast was usually pretty good, but we honestly didn't eat here often because at least with the made-to-order restaurants included in your cruise, we knew that our food would be fresh.
Carnival Horizon activities and amenities:
While on board the Carnival Horizon, we attended a few of the Playlist productions, a few of the Seuss readings, and thoroughly enjoyed the waterpark and pools.
The biggest problem for us is that there is not a lot for babies or toddlers who are still in diapers, since they are not supposed to be in the pool.
At this point in time, I feel that there must be some way for Carnival to allow children in swim diapers to use the pool and slides. We have advanced technology for many, many things, and I think there is a way to make more activities for families with toddlers.
Our favorite activities:
Waterworks: for our two oldest daughters who could enjoy the pools and slides, this was a definite highlight and something we enjoyed almost every day.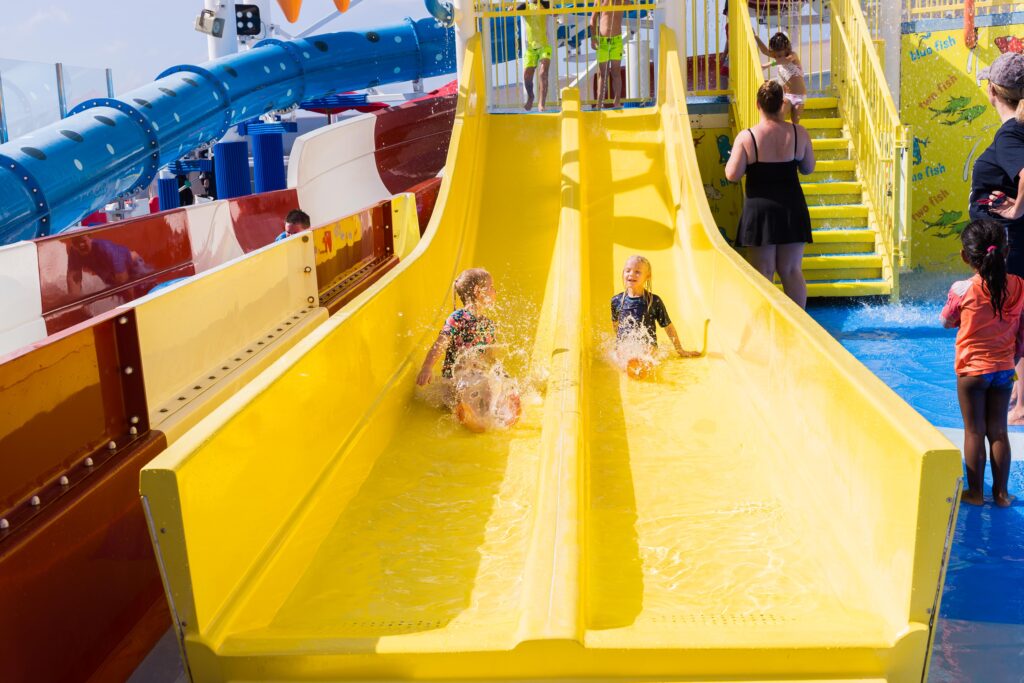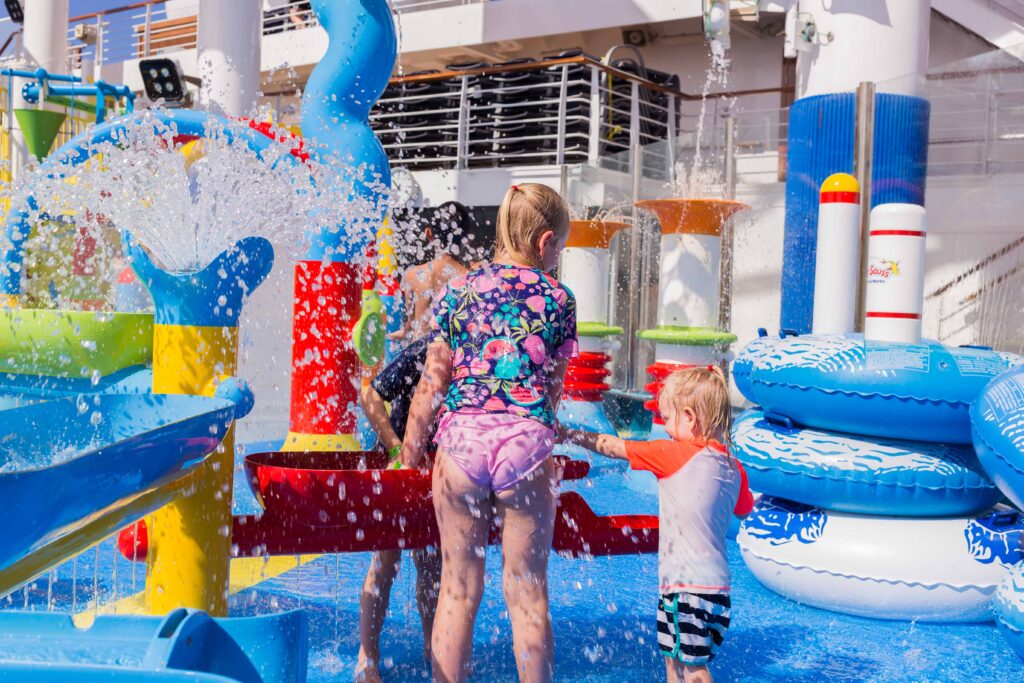 The playground: although small (and could definitely be improved), this was the one thing our youngest daughter could enjoy.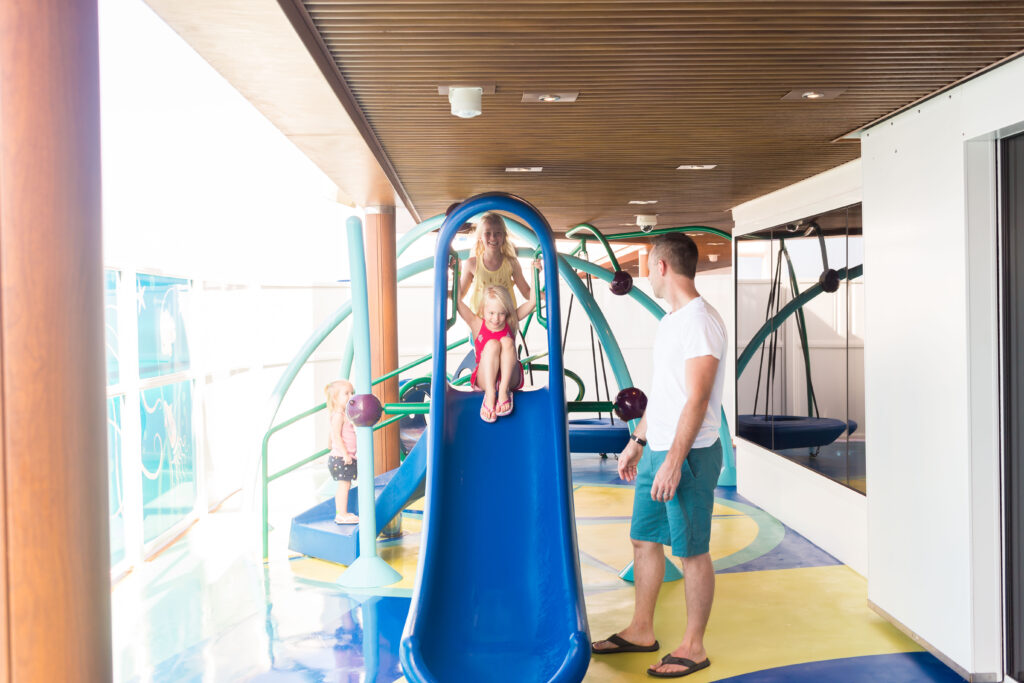 SportSquare: we spent more time in SportSquare than on previous trips, and really enjoyed the variety of activities available, including mini golf, foosball, pool, and more.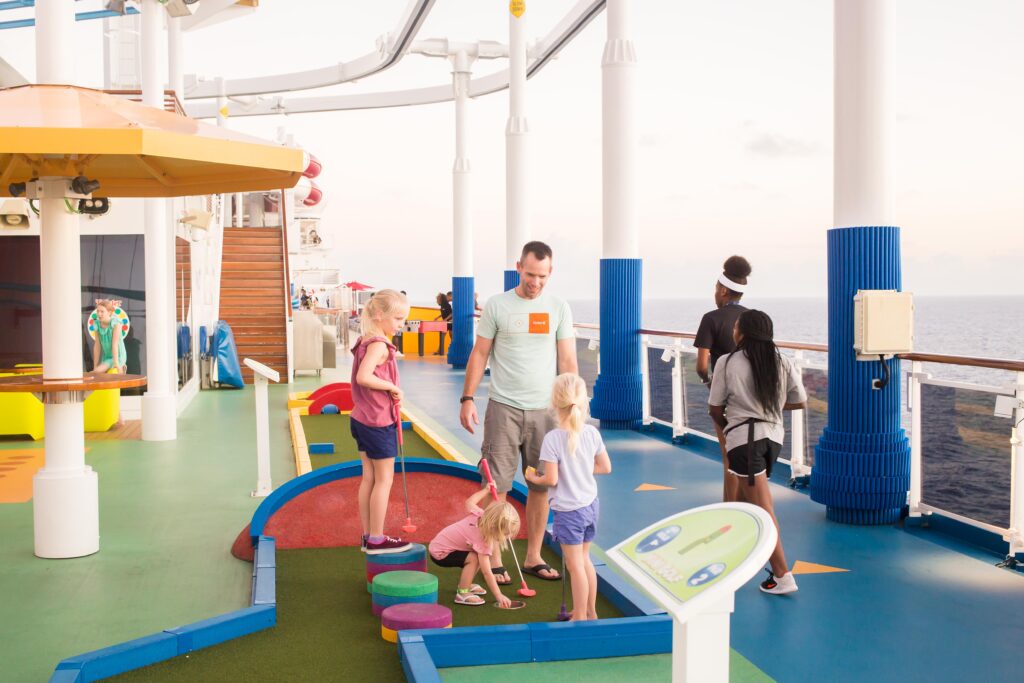 SkyCourse: our oldest was the only of our children who could do the SkyCourse, but she loved and dragged both of us on it multiple times. It was a really fun way to be active on our sea days!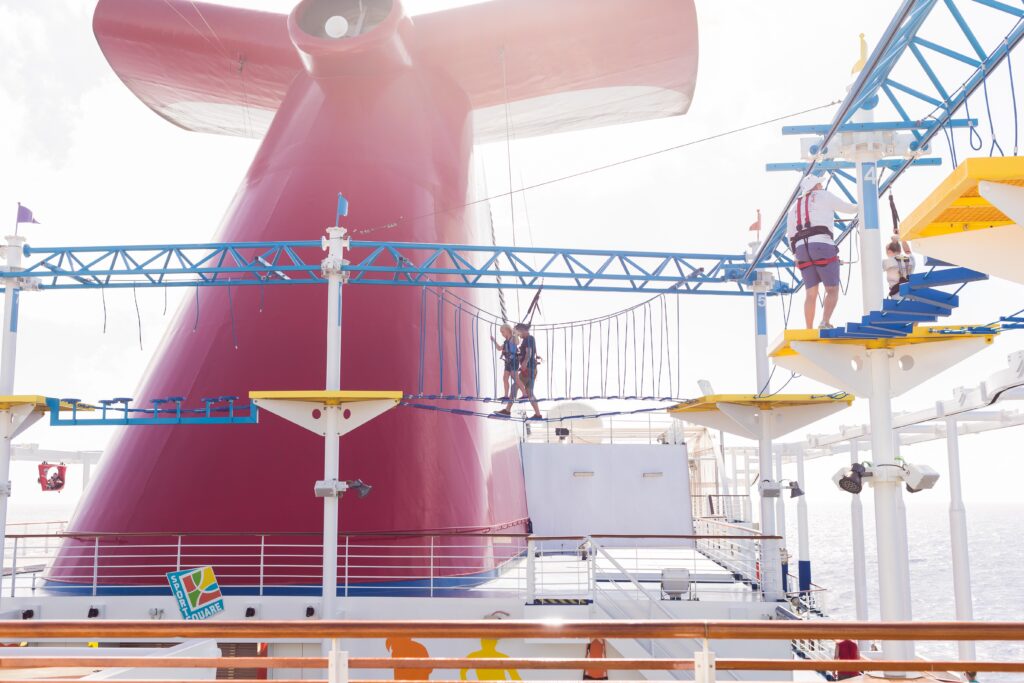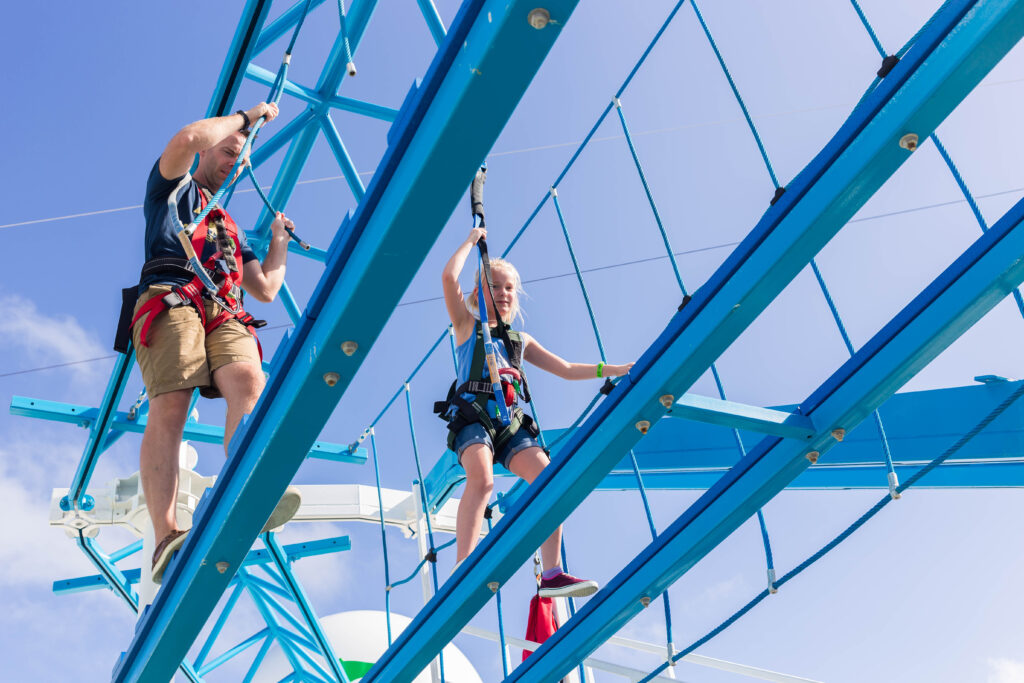 IMAX: We saw a short movie about super dogs, and it was a fun way to spend some time on one of our sea days. There were a lot of glitches with the ticketing system but I'm sure at this point they have all of that straightened out.
Kids' highlights on the Carnival Horizon:
Our 7 year old's highlights: Our oldest enjoyed going to Camp Ocean more than our younger two, although as parents we were disappointed that most of the time was spent playing video games. She also loved the SkyCourse and Waterworks!
Our 5 year old's highlights: Our middle daughter also loved the pools and Waterworks (though she could only go on one of the big slides), mini gold and foosball. Unlimited fro-yo is always a plus, too!
Our 2 year old's highlights: she loved the playground, although we quickly ran out of things to do while we were there. She didn't enjoy going to Camp Ocean but we spent lots of time strolling the ship together, and she loved going to the beach on port days.
Overall Family Friendliness of the Carnival Horizon:
We are big fans of cruising and we have always enjoyed our time on the Carnival Horizon. As the kids get older, there will be even more activities that they can enjoy, but we would like to see more options for toddlers (aside from going to Camp Ocean, which a lot of toddlers are terrified to do).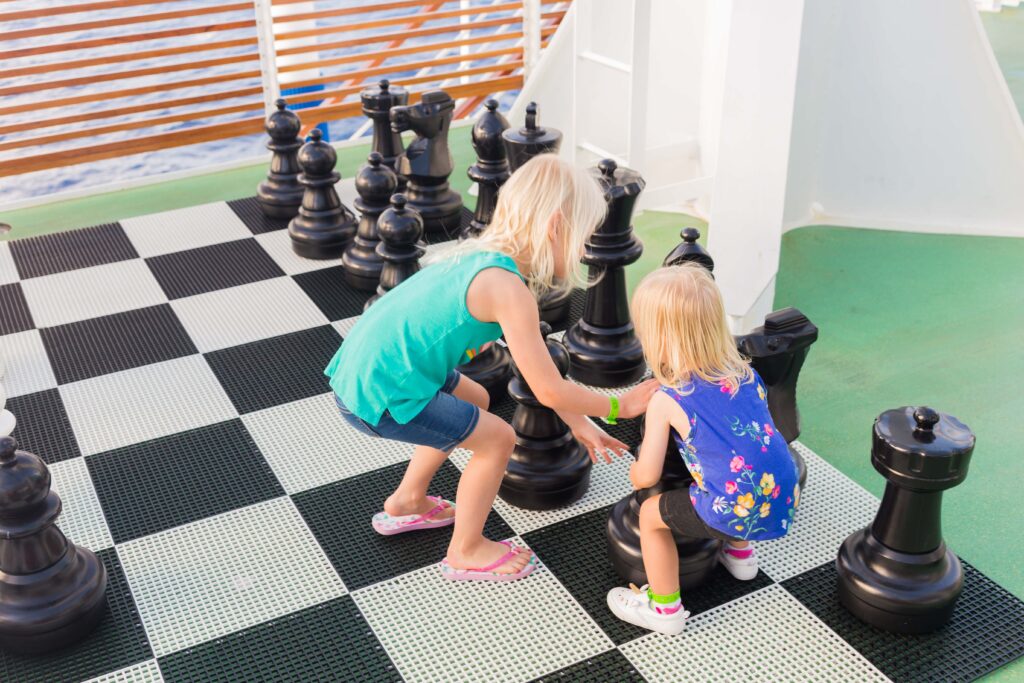 Someday down the road, hopefully not too far away, when we are all ready to cruise again, we would love to try a new cruise line and see what others have to offer.