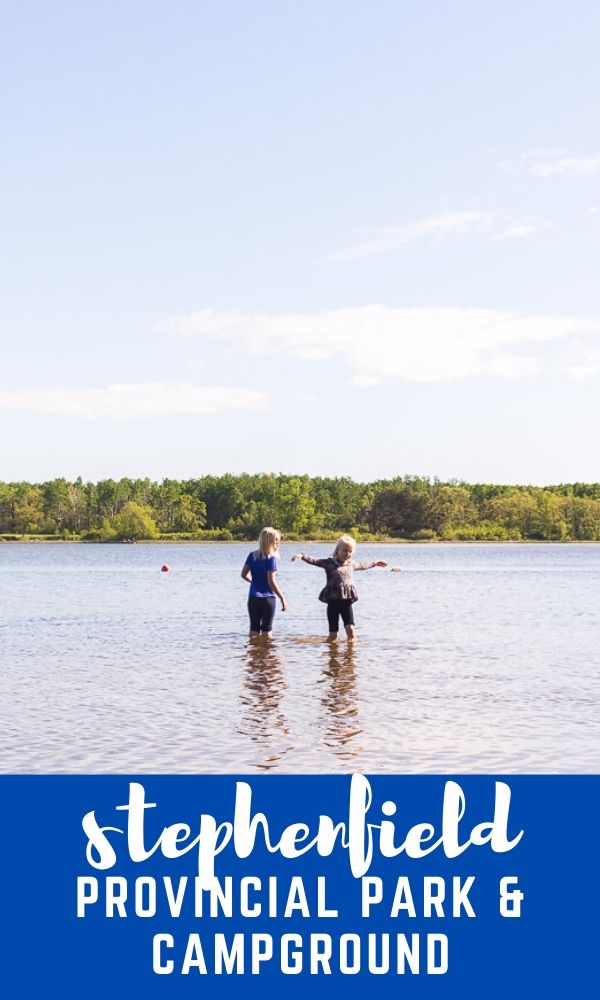 A thorough review of Stephenfield Provincial Park and its campground, including details on the campsites, amenities, beach, playground, and more.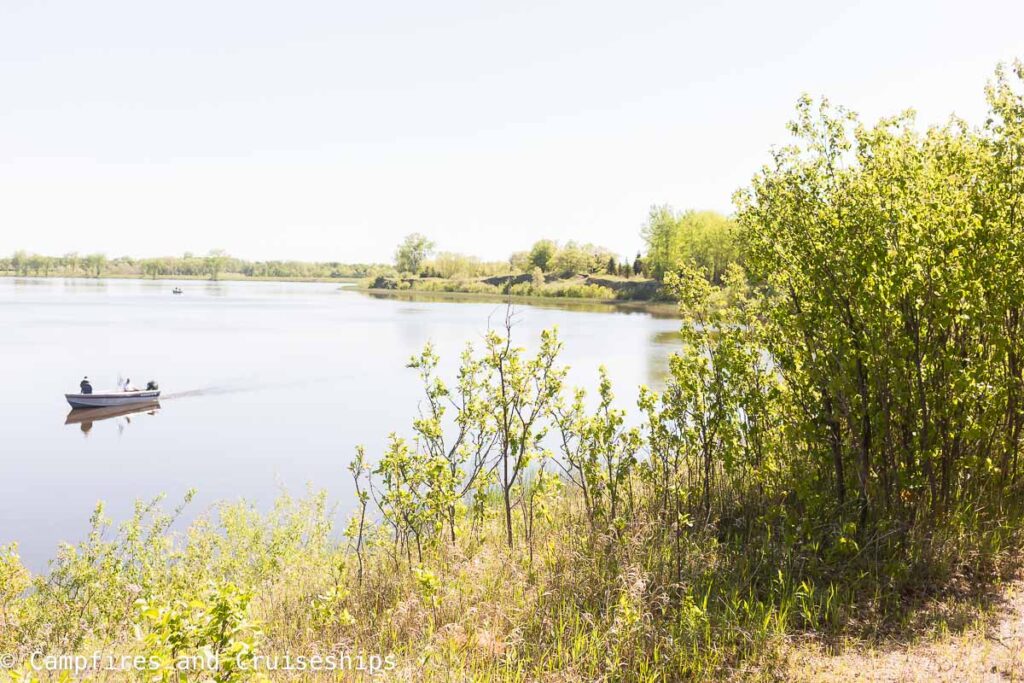 Although we won't get as far from home as we were hoping to this summer, we are looking at this summer as an opportunity to get to know our home province of Manitoba in a new light!
This summer, we'll be visiting some of our favorite camping spots and provincial parks, as well as checking out new ones for the first time.
Our first camping trip of the year was to Stephenfield Provincial Park.
We've been here before and we love it, for a lot of the reasons I've listed below!
It's pretty close to where we are — about an hour from home — so we don't have to spend all day driving and arrive already exhausted.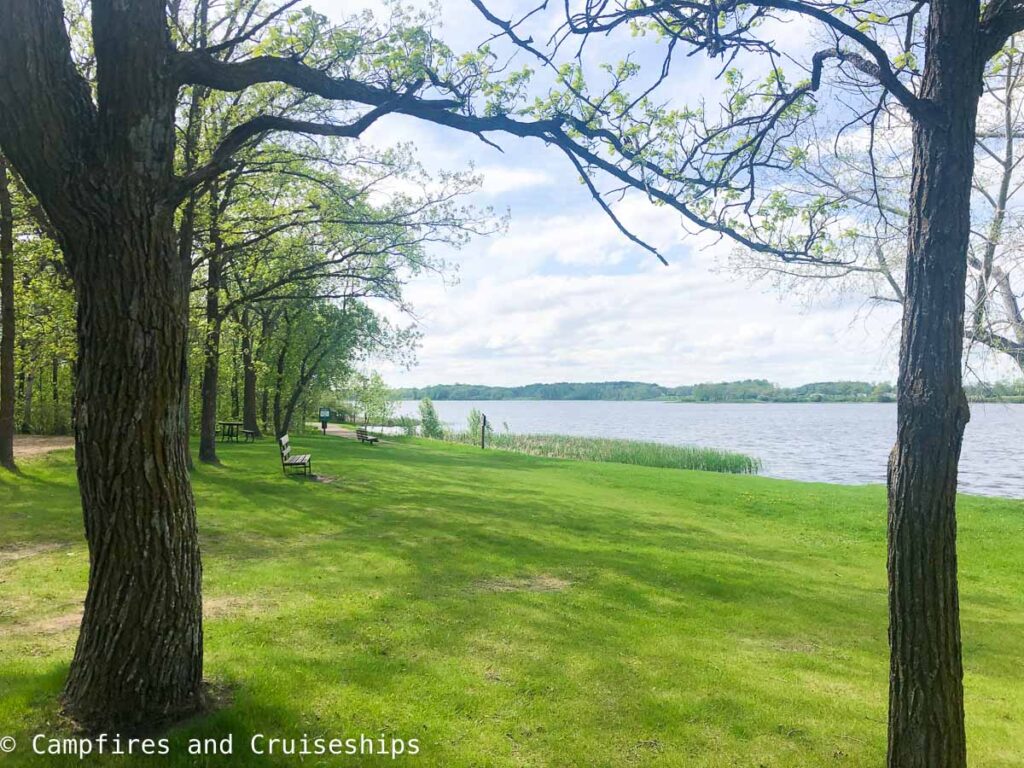 Even if you do have to travel, it's a beautiful place to spend the day, the weekend or more!
Campground Location:
Stephenfield Provincial Park is located almost directly South of Portage la Prairie (which sits on the Trans Canada Highway), about 45 minutes off the #1.
It's a convenient stop if you are travelling along the Trans Canada, though once you leave the #1 highway the roads are not all great.
Most of the roads to Stephenfield Provincial Park are paved, but there is a section of MB-240 that is gravel, which isn't a big deal but not ideal if you're hauling a big trailer.
Much of the drive once you get closer to the park is without cell service and there are not a lot of amenities along the way, so keep that in mind if you are needing gas or food.
Campsites:
I don't know if there are any bad campsites in Stephenfield Campground.
There are lots of trees throughout the park, and lots of space in between the sites.
We love Bay 3, mostly because we have kids!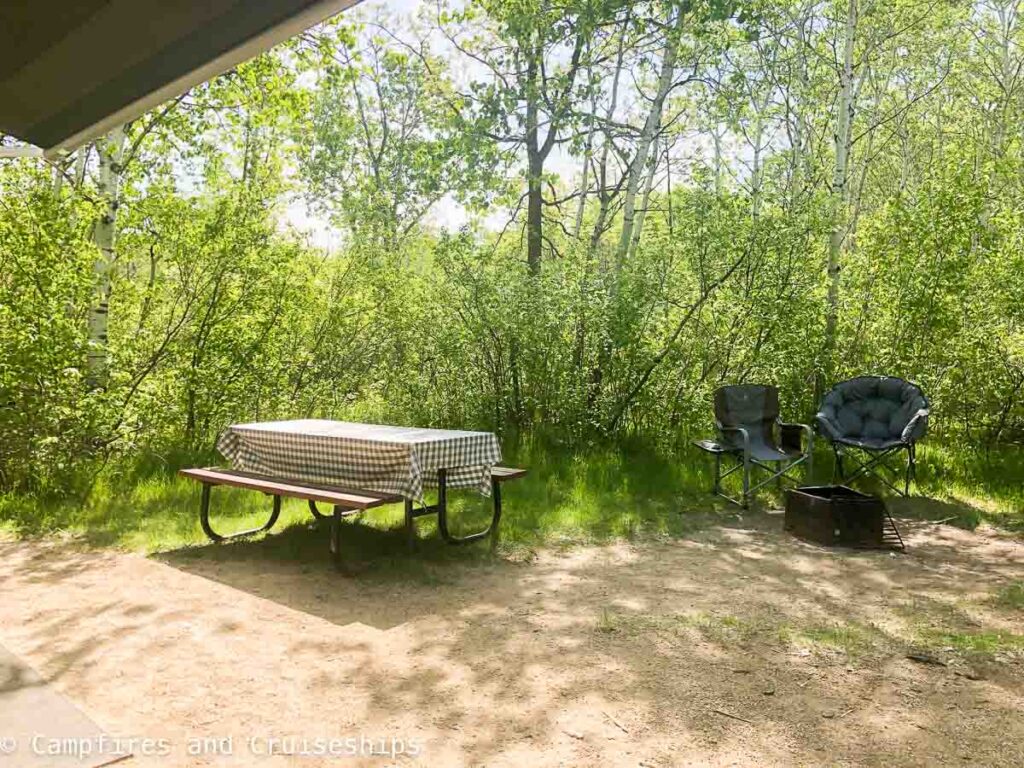 Bay 3 has electrical sites and is a quick walk or bike ride to the beach and playground.
There is only one playground in the park, so if you're travelling with kids I would recommend Bay 3 for its close proximity!
There are also 6 yurts, which are in a gorgeous location right on the water and close to the beach and playground, so if you're not into RVing or tenting, these are a great option!
Stephenfield Provincial Park Amenities & Activities:
Stephenfield Provincial Park is a smaller park, but it hits all of our essentials: a nice beach, and a nice playground. Anything else is a cherry on top for us!
Beach:
The beach in Stephenfield Provincial Park is small but beautiful.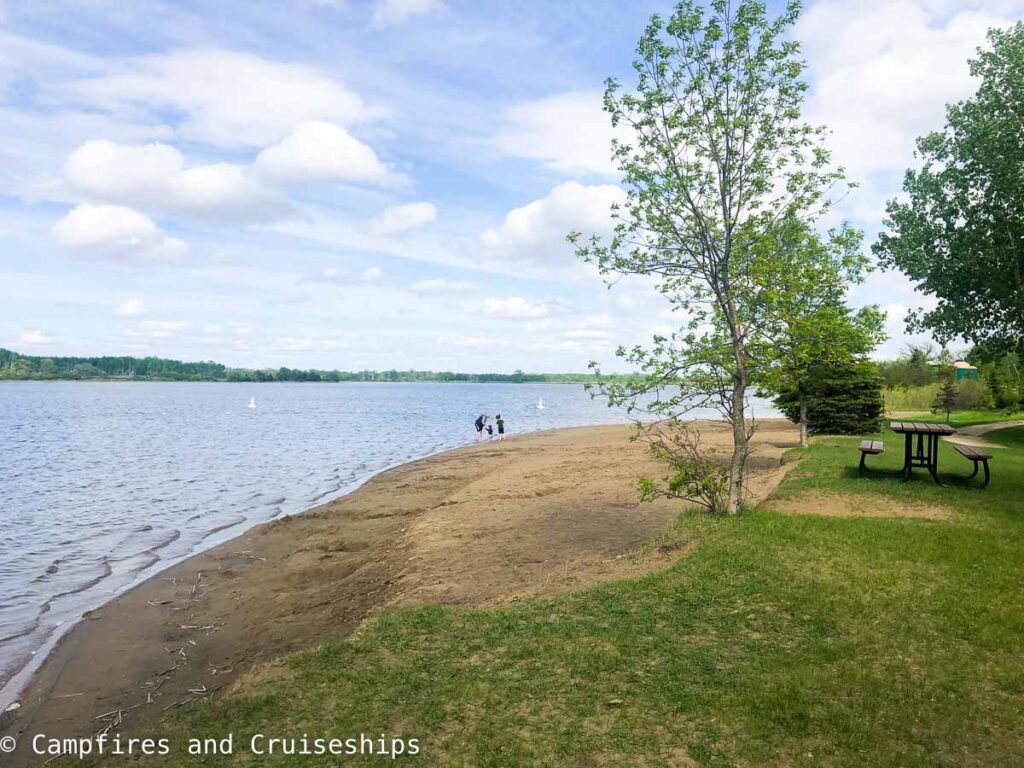 There are lots of benches and picnic tables, and a big grassy area with lots of trees (shade!) behind it.
Since the reservoir is small, the water is relatively calm and warm.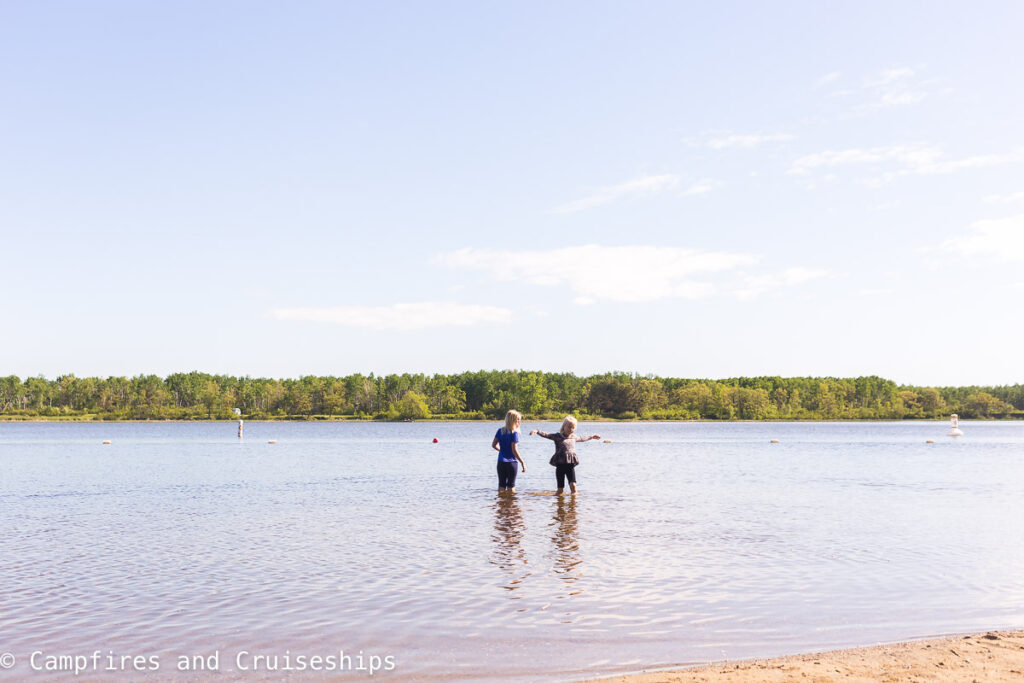 Playground:
Our kids love the playground at Stephenfield!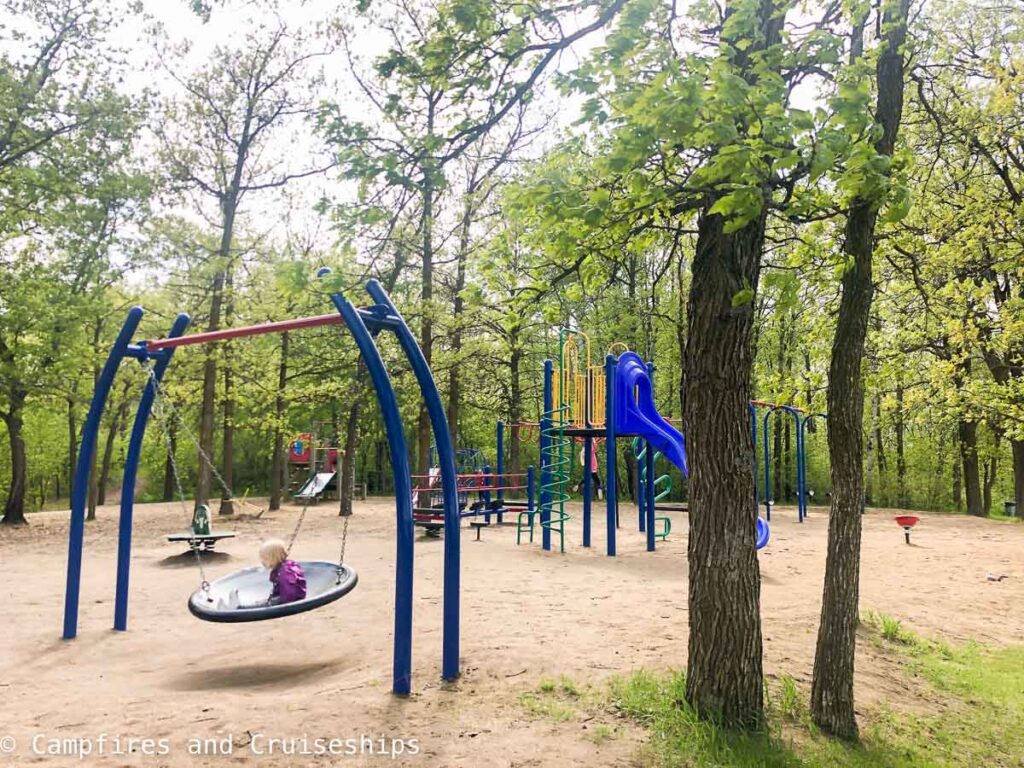 It is large, with lots of different sections, and is appropriate for children or all ages.
It has some structures that are obviously relatively new, with lots of things for kids to enjoy!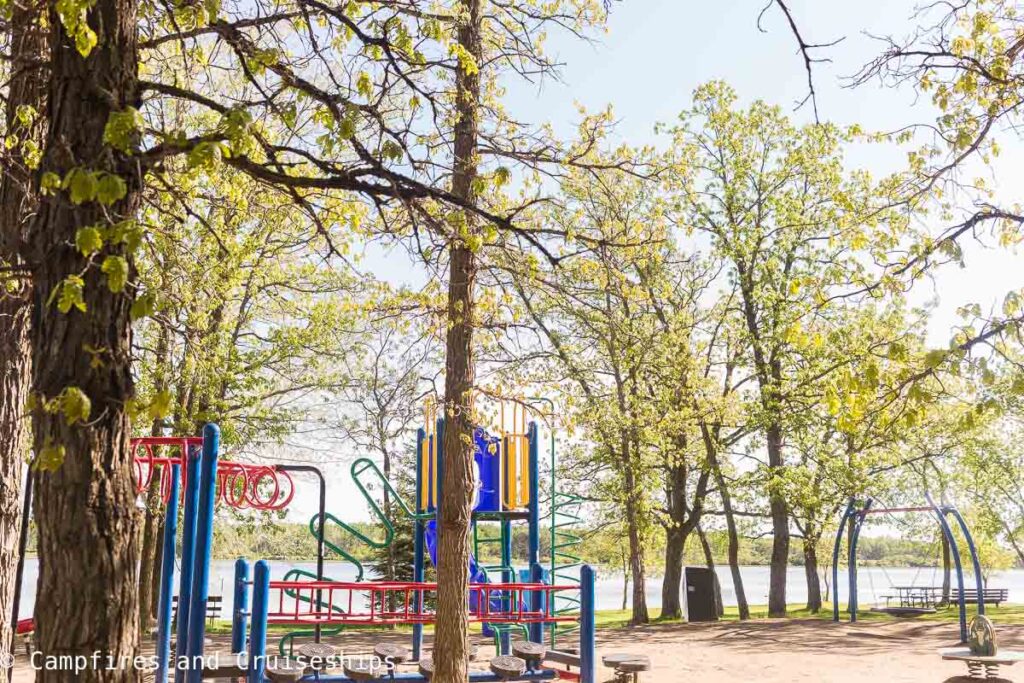 Hiking:
We went for a hike out to the dam one morning, and it is a beautiful walk!
The trails are not too steep or too rocky and perfect for small children.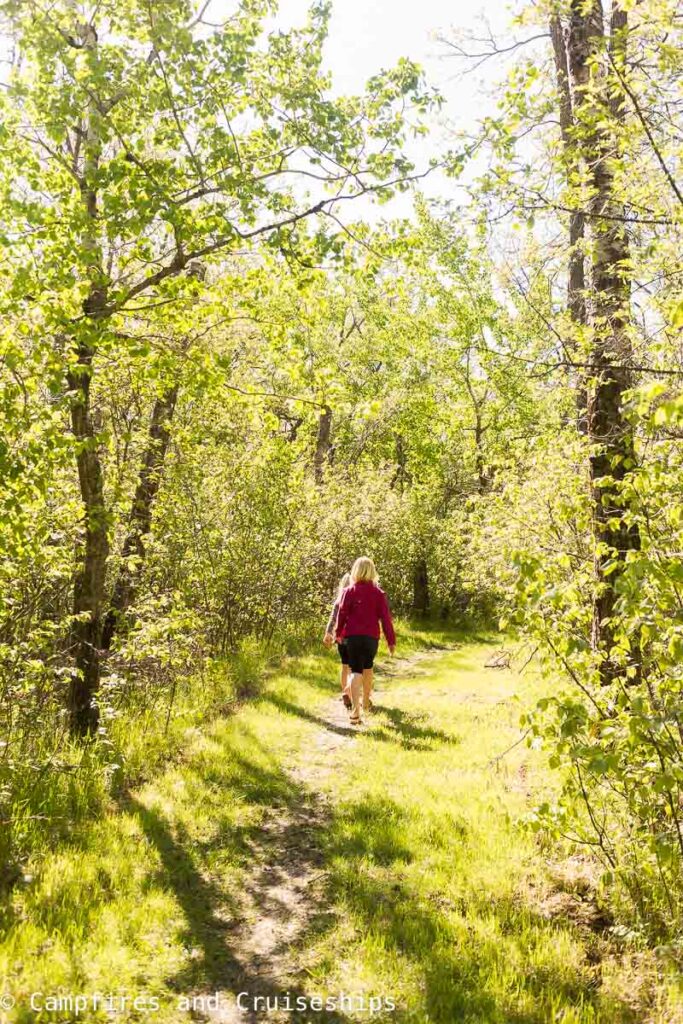 For much of the walk we had excellent views of the lake, which is always a plus for us landlocked folks 😉
The kids love looking at the dam, so it was a fun little adventure on a morning that was too cool for swimming.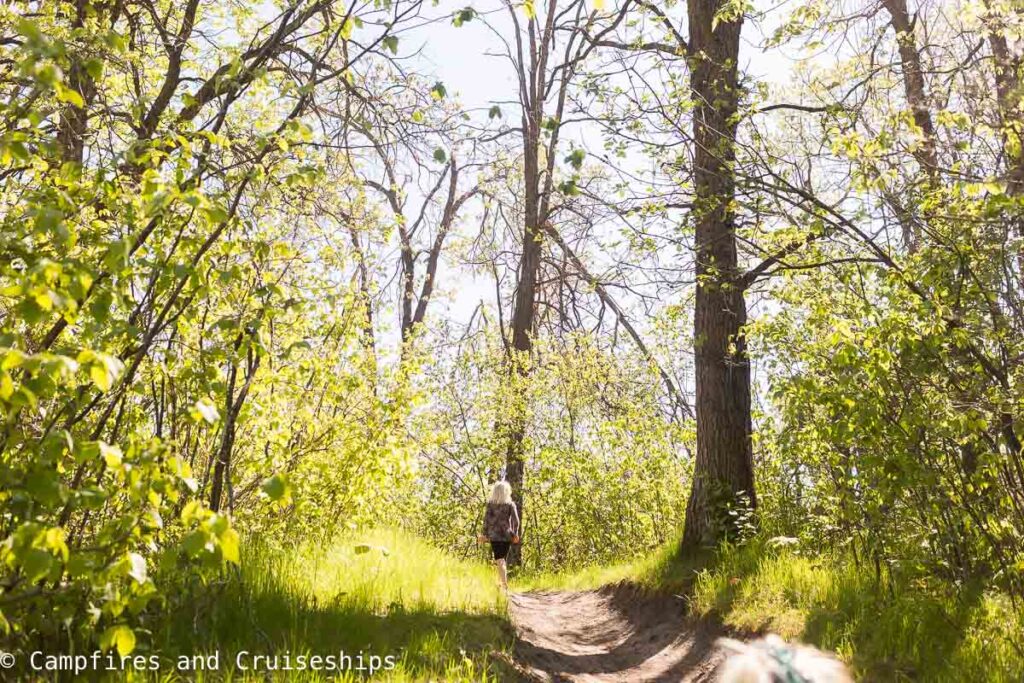 If you're not sure about the hike, you can also easily bike or walk along the road that goes past the boat launch and directly to the dam.
Spark's Drive Inn:
Just outside the entrance to the park is Spark's Drive Inn.
It's a fun little spot where you can get ice cream and other cold treats, as well as some basic drive inn foods like burgers and fries.
If you aren't lucky enough to have a freezer stocked with ice cream treats tucked away in your RV, Spark's is a great place to go for a little dessert on a hot day!
Cell service:
As someone who makes her living on the internet (primarily, running The Recipe Rebel), I had to include this!
In most of the bays and campsites at Stephenfield there is no cell service.
Sometimes I prefer it this way as it's nice to be forced to unplug sometimes.
But it's always nice to know where and how you can get connected again when you need to!
If you walk down to the beach, there is great cell service in some spots so you can quickly make a phone call or send a text.