An overview of Spruce Woods Provincial Park and Kiche Manitou Campground in Southern Manitoba, including Spirit Sands and Marshs Lake trails.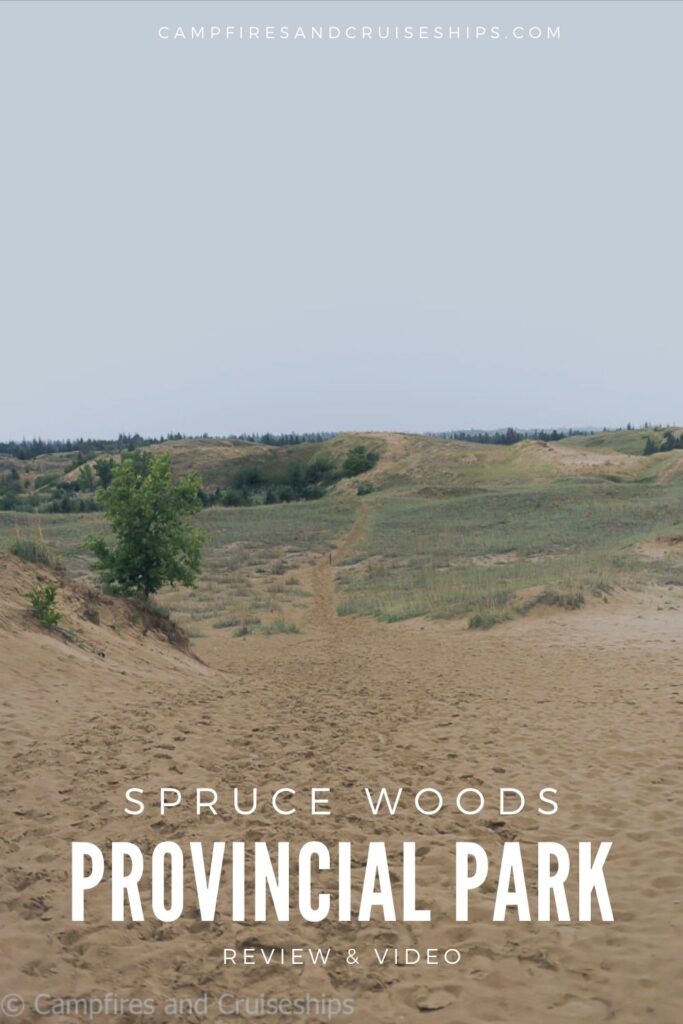 While Spruce Woods is the closest provincial park to our home, it's one we hadn't explored very thoroughly before this year.
Because we'd been there so often, I think we underestimated it!
Although our camping is not done for the year, Spruce Woods Provincial Park and Kiche Manitou campground has been one of our favorite campgrounds so far.
It is larger than both Stephenfield and St. Malo, and offers a wider variety of trails and opportunities to get outside and see some neat things.
Normally when we are camping at Kiche Manitou campground we are with a group, up in the upper level of campsites away from the beach, but this time we are on the lower side, close to the beach and we loved it.
Campground location:
Spruce Woods Provincial Park and Kiche Manitou campground is about 20 minutes South of Carberry along Trans Canada #1 highway.
Although the highway (#5) that takes you South isn't the smoothest, it is a short jaunt from the #1 which makes it a convenient location for many travellers.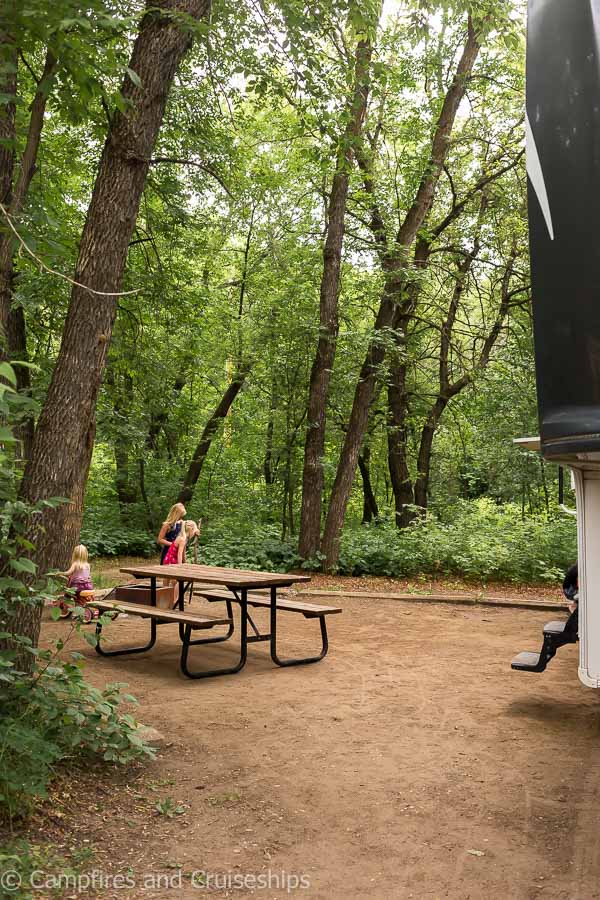 It sits on 269 square kilometres of land, including forest and sand dunes, which makes it unique within Manitoba, as these are the province's only sand dunes.
The park has 11 lakes and loads of hiking trails where wildlife is easy to spot.
Campsites:
Because Kiche Manitou campground is so large, it offers a wide variety of campsites with different amenities and for different needs.
You can get a look at all that the campground has to offer by clicking here to see the map.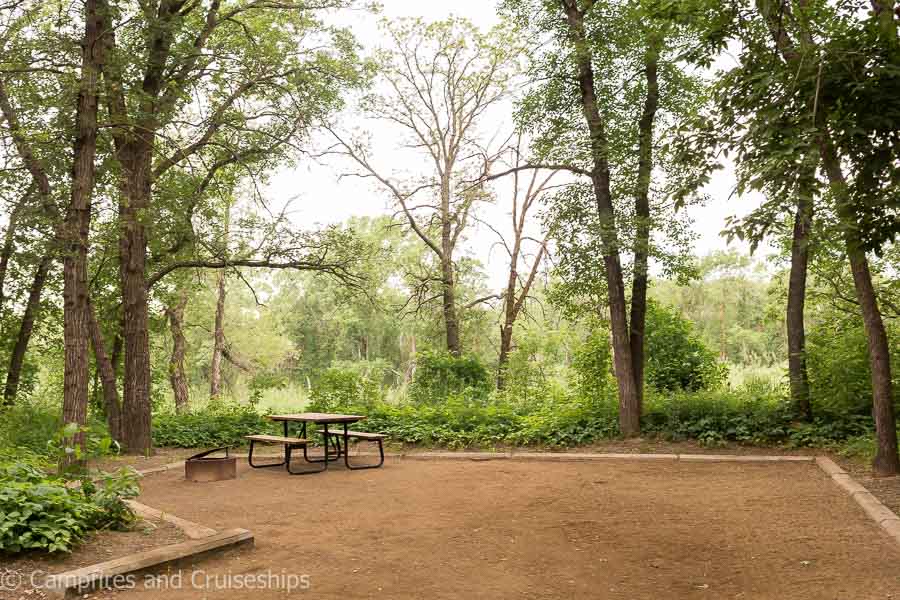 The campground is well treed, so you don't really have to worry about a lack of shade or privacy.
It only offers electrical sites or unserviced, so full service is off the table. It's worth noting that the weekend we were camping there it was very hot, and the electrical site we were in had trouble running our air conditioner.
When we were driving around, we decided that bays 1 through 4 were our favorite bays, but we would definitely book in bay 1 or 2 because they offer electrical hookups.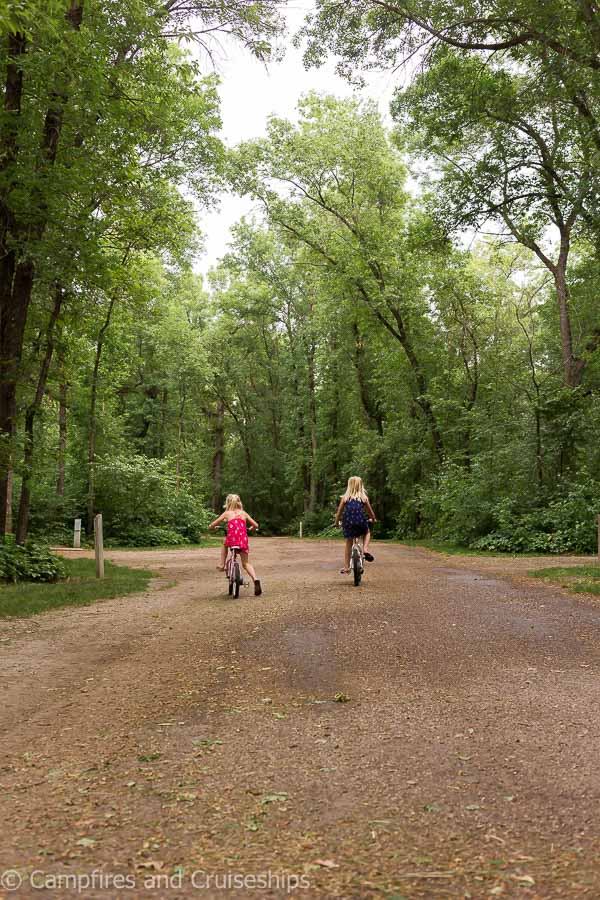 They are well treed, beautiful sites, near lots of trails that follow the lake to the beach.
We had mostly shade at all times throughout the day, which was nice because it was very hot.
Bays 8-11 are up the hill from the beach, which can be a long and difficult bike ride or walk, especially for little ones. When we've stayed up there, we've often driven to the beach instead of walking or biking.
Spruce Woods Amenities and Activities:
Beach:
The beach at Kiche Manitou campground is on the smaller side, and although it's not the prettiest, the kids love it.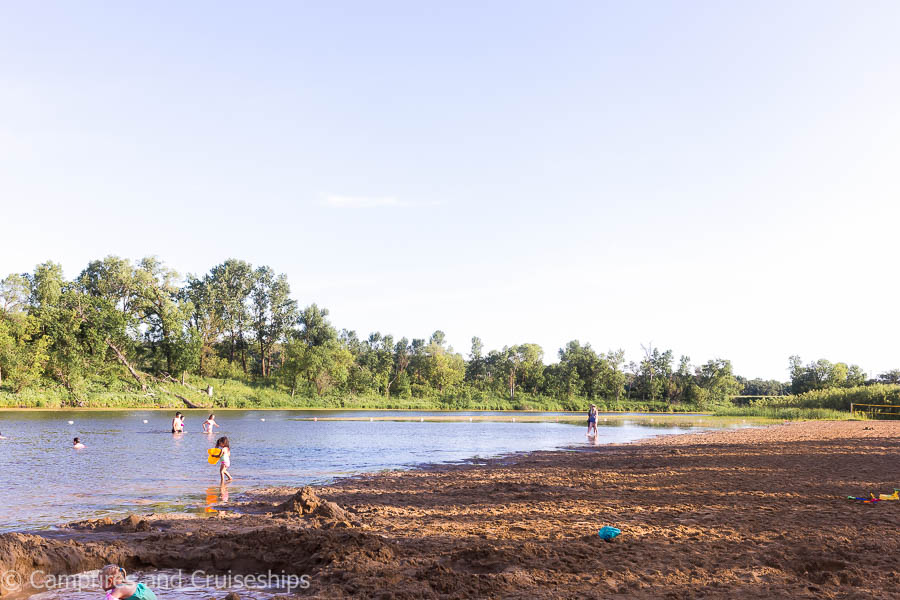 The water is shallow and perfect for kids, and the bottom is smooth and not rocky or gooey.
Our kids spent hours digging holes and making sandcastles!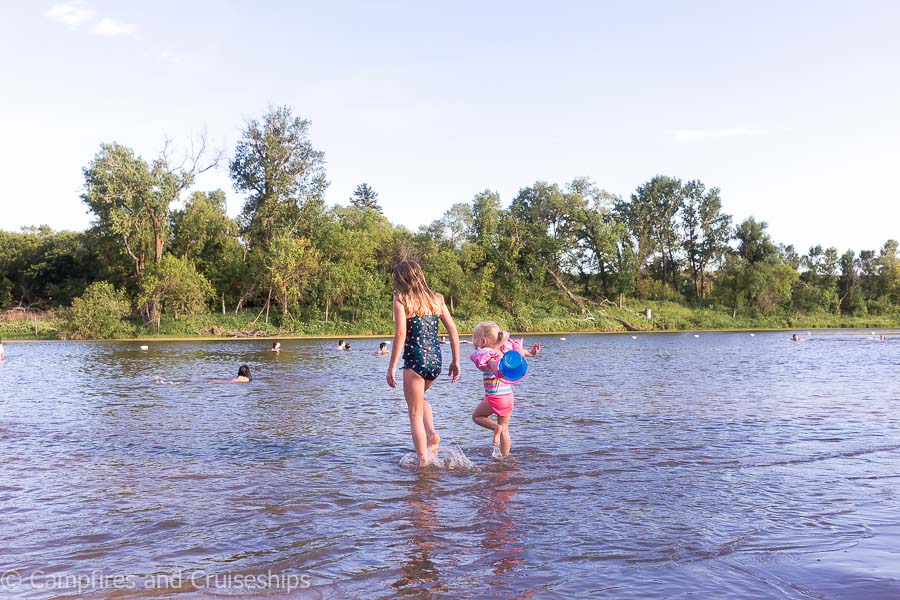 Playground:
The playground is across the lake from the beach, so it is a little further from bay 2 where we were camping, but since we spent most of our time at the beach it wasn't a big deal.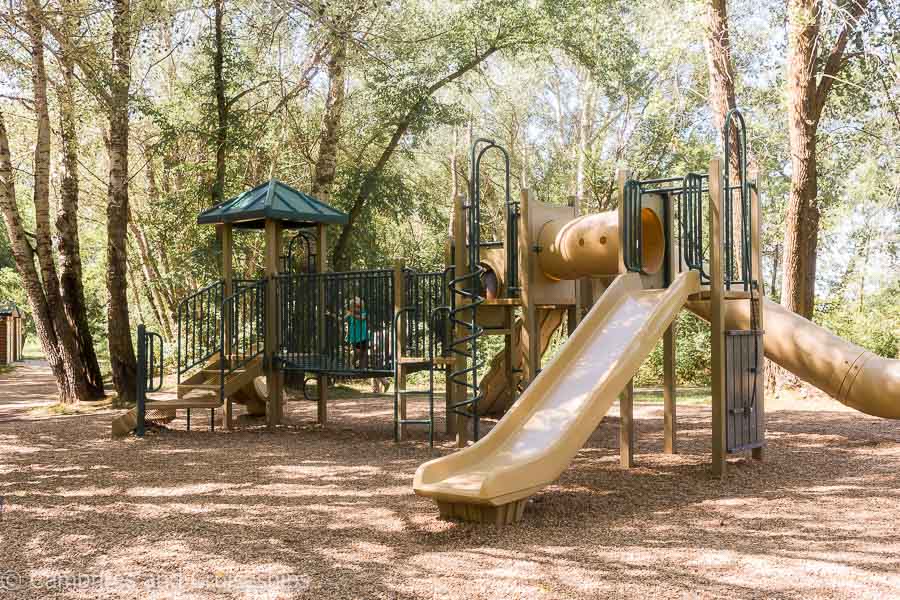 The playground is smaller than those at some other provincial parks and campgrounds, but we never noticed that it was overly crowded.
Mini Golf:
A short distance from the playground is an 18 hole mini golf course.
We love having this option if the days are cooler and we're looking for something to do other than hang out at the playground all day.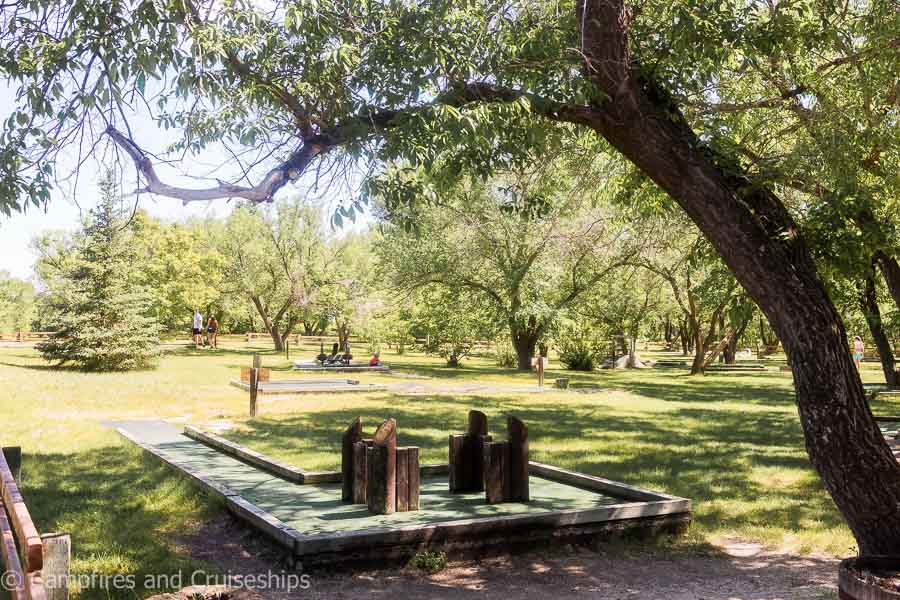 The mini golf course is right next to the concessions stand and grocery store, so we usually have to swing by and grab an ice cream cone after we're done 😉
Concessions:
The concessions stand at Kiche Manitou campground is called Pine Fort IV, after the Fort des Epinettes, a 1700s Northwest Trading Company post that used to sit in the park.
Pine Fort IV offers your typical drive-in meals (chicken fingers, fries, burgers, hot dogs, etc.) along with a selection of ice cream and treats.
Next to the concessions stand is a small grocery store where you can grab those essentials you may have forgotten! A must when you are far from home.
Hiking:
This is one activity Spruce Woods Provincial Park is known for.
The weekend we were there, the parking lots to the trails were packed with vehicles.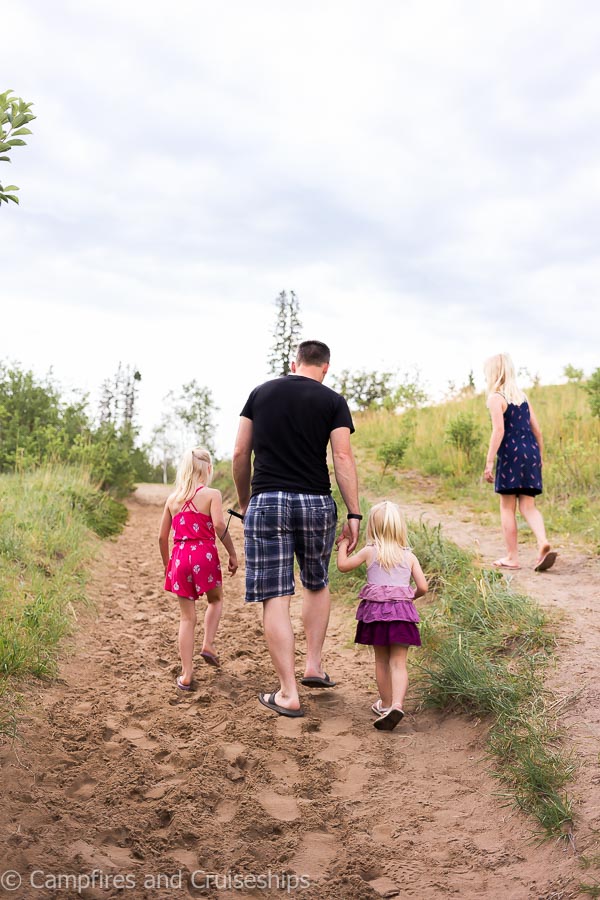 The most popular network of trails is those at Spirit Sands, Manitoba's only sand dunes. They really are spectacular!
The hike to Devil's Punch Bowl, a brilliant blue-green pond formed by an underground stream, is quite a walk for little ones, so we opted to stick to the dunes instead.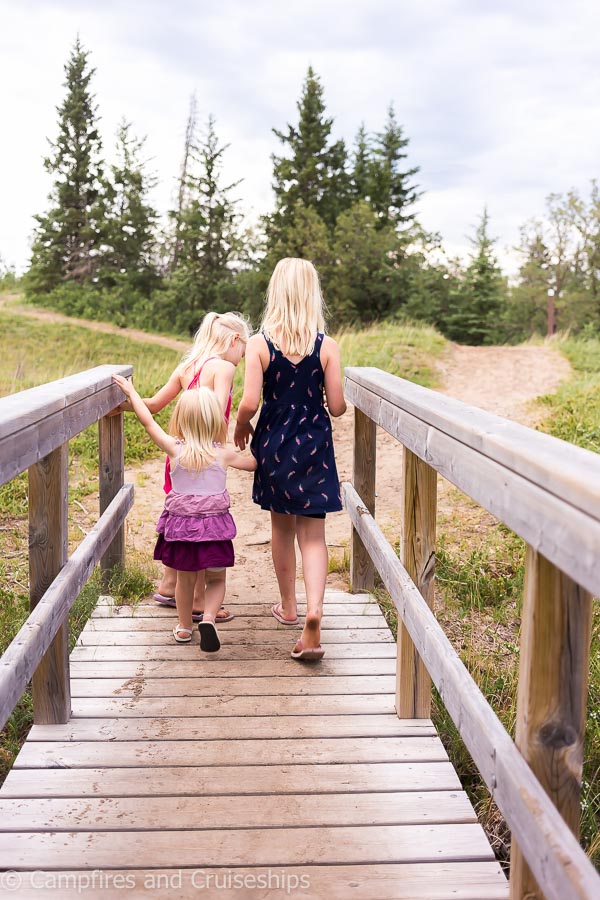 The hike to the dunes is about 2 kilometres, so it is easier for the little ones to manage, and the dunes are a blast to explore!
We also did the quick hike at Marshs Lake, which took maybe an hour round trip and was awesome because of the amount of turtles we saw along the way!
It was a sunny day and they were sunning on the logs right next to the trail, so they were easy to spot.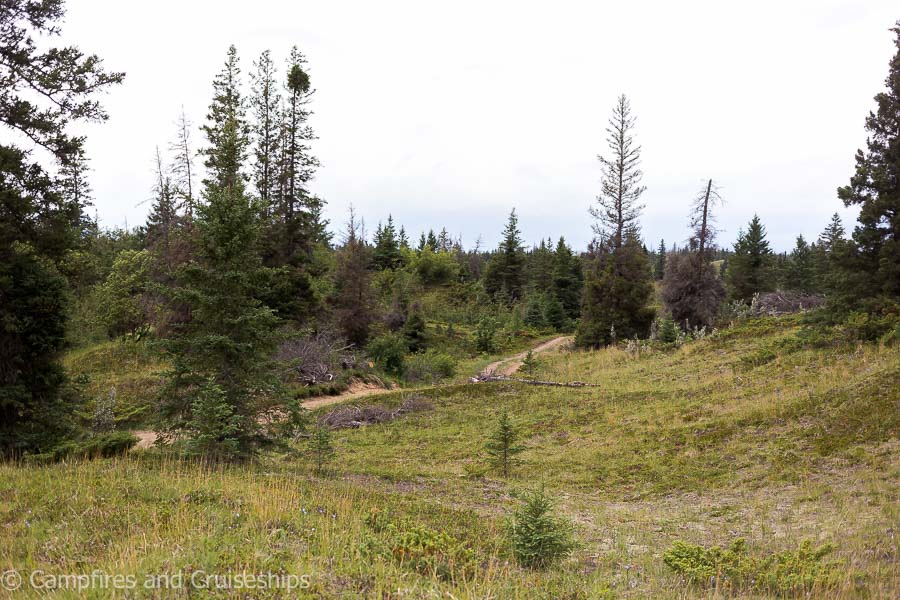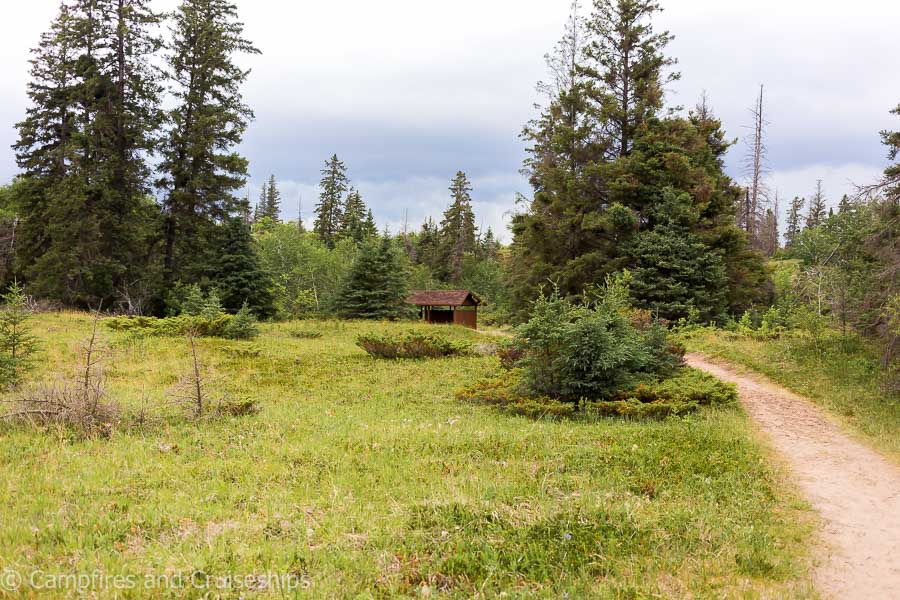 Cell service:
There is minimal cell service throughout Spruce Woods Provincial Park, which can be a good thing and a bad thing.
While we love escaping from the internet every now and then, it's nice to have some place where we can go to check in if we need to.
At our campsite in bay 2 we usually had one bar of 3G, which was enough to send or receive a text every now and then (though not usually), and I make a very clear phone call with no problems.
To get online, we found there was great service at Spirit Sands (interestingly!), better than anywhere else in the park. One day when I needed to check on something I drove up there and walked just to the beginning of the trail where I could use my phone no problem.