How to plan an East Coast Road Trip with kids! Where we went, what we did well, and what we would change. Plus our favorite road trip snacks and and the best road trip activities! Including: Halifax, Nova Scotia; PEI; Hopewell Rocks; Bar Harbor, Maine; Ogunquit, Maine; Brownsville, Vermont.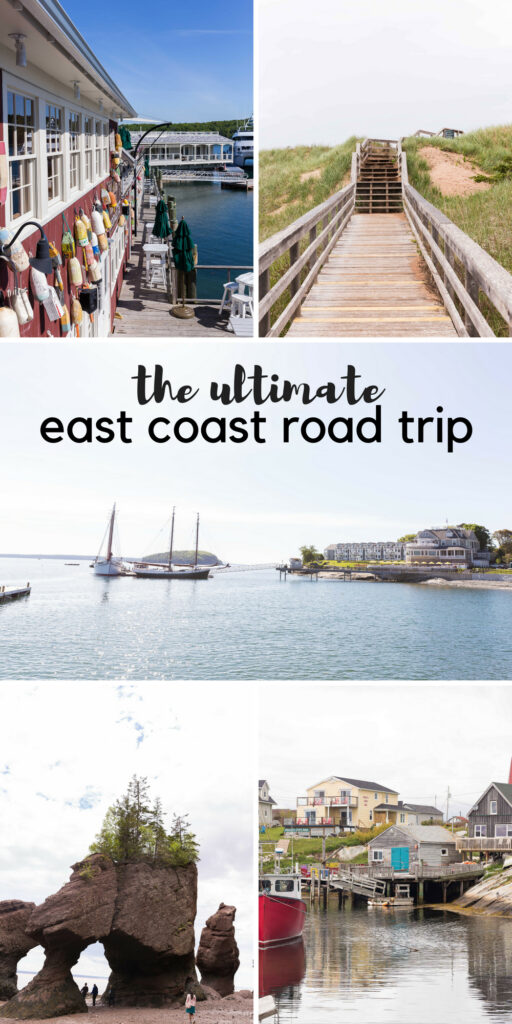 Hello friends!
I know, there's no recipe or gooey, drippy, or cheesy food pictures this time.
But I wanted to share an overview of the East coast road trip we took with our kids this month for those who were curious, and for those who might be interested in planning a similar trip in the future.
I spent a ton of time preparing, gathering ideas for snacks and activities (from you, too!), researching places to stop, daily travel times, hotel options with space for our family (since there are 5 of us and sleep is super important!).
So I figured I would share some of the things we learned before, some of the things we learned during (because you know it didn't go perfectly 100% of the time!), and what we would do differently next time.
This post is not sponsored by any of the places mentioned but I may share affiliate links to some of our favorite snacks and activities, and I make a meagre amount if you click through and purchase.
East Coast Road Trip map:
As you can see by our East Coast road trip map, we covered a lot of ground in 10 days considering we were travelling with a 6 year old, 3 year old and 6 month old. If we were going to do another such road trip, we would likely wait until our kids were a little older (they did great, except baby Stella was so tired by the end of it), or plan in a little more rest time and see a little less.
Stop 1: Halifax, Nova Scotia (3 nights)
We flew from Winnipeg to Halifax and stayed in Halifax 3 nights, so we were there only a total of 2 full days. We were lucky enough to get a suite at the Comfort Inn Bedford Highway, which had a separate bedroom for the older girls.
For our family, I know that a little more space is more important than being right in the middle of downtown, but every group is different and you've got to do what's best for you.
During our time in Halifax we visited Peggy's Cove, Mahone Bay, Lunenberg (we stopped for lunch at the Salt Shaker Deli here) (day 1) and the Oaklawn Farm Zoo (day 2).
On our second day, we also went into downtown Halifax for the seafood platter at Salty's (recommended by friends from Halifax!), walked the boardwalk and went on the Harbour Hopper.
If you're travelling with kids, the boardwalk has a great little playground and tons of little snack shops if you're looking for something less formal.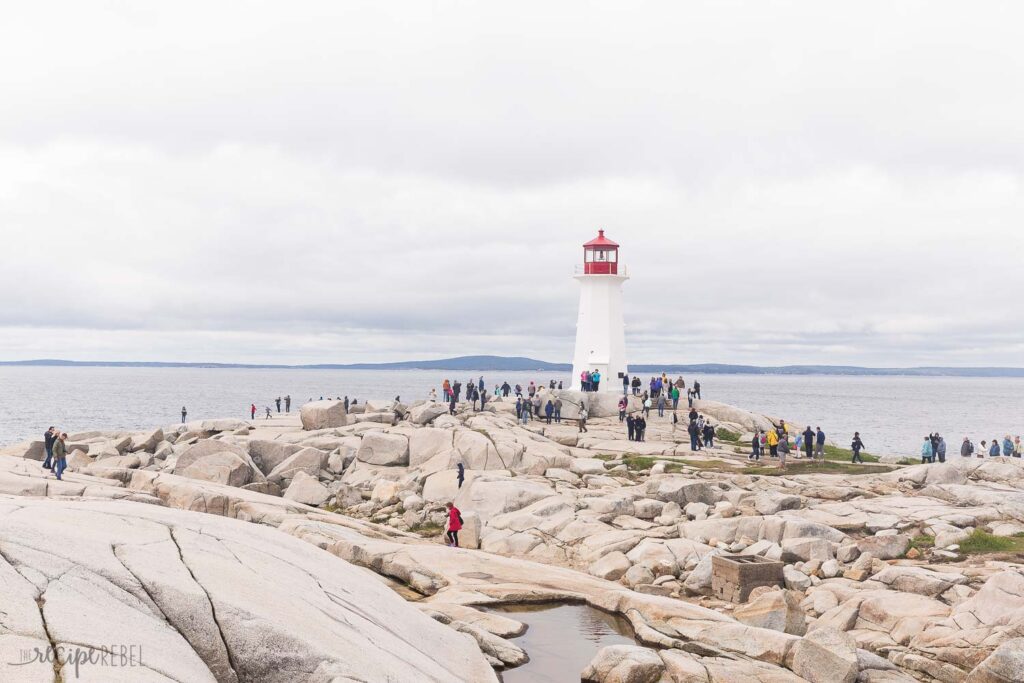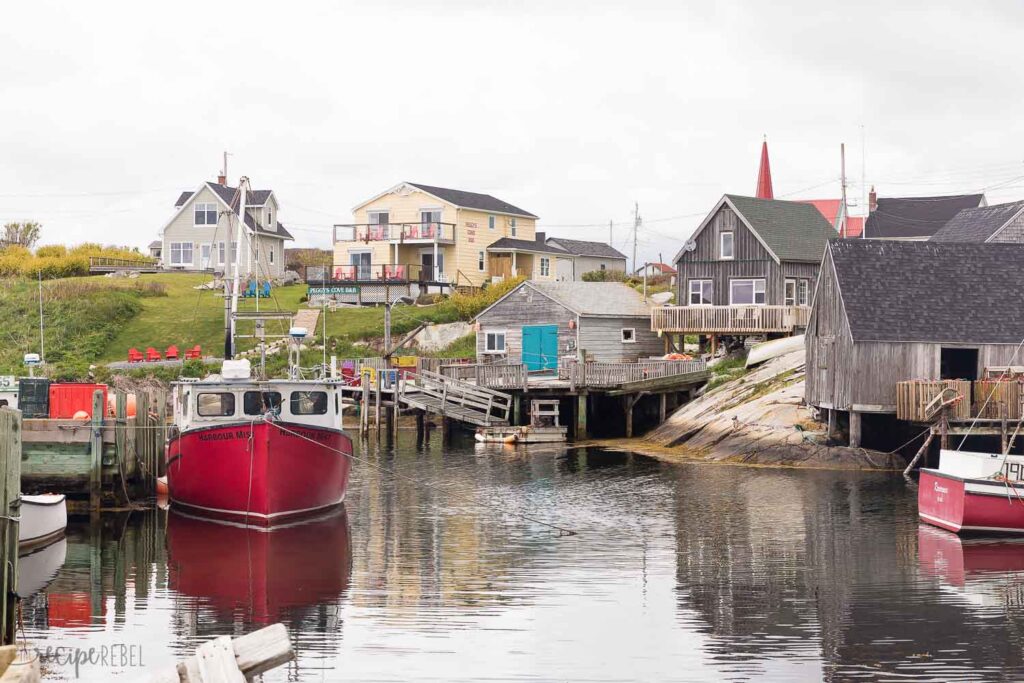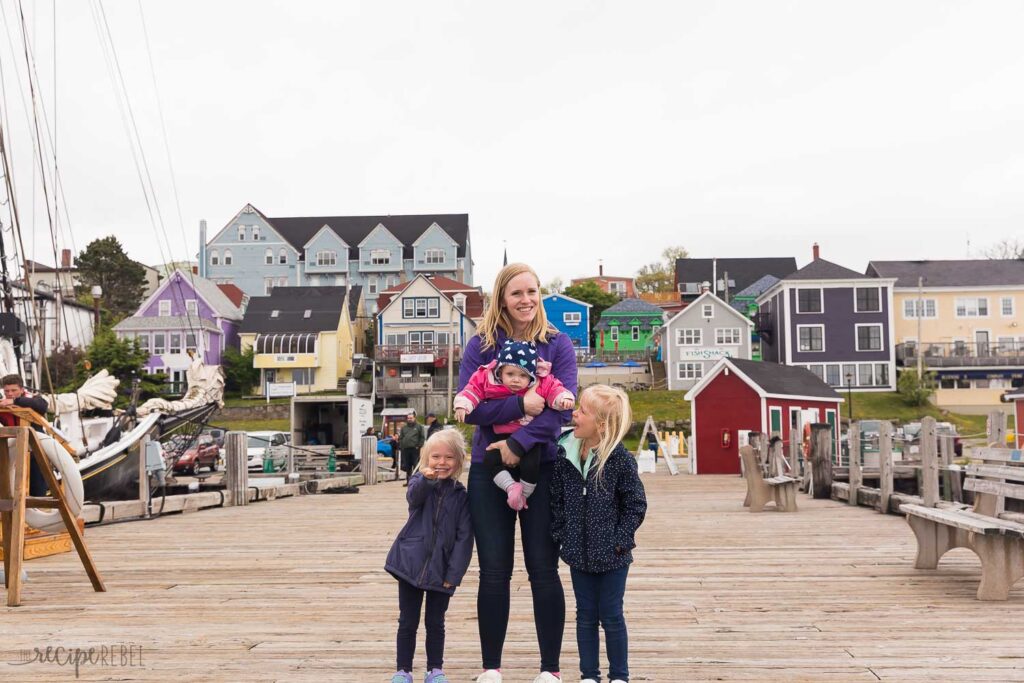 Stop 2: Charlottetown, PEI (1 night)
We left Halifax early in the day and continued on our East Coast Road Trip. We took the bridge into PEI — we were hoping to get on the ferry but we were a little too late and missed our best shot. Going around on the bridge proved to be quicker anyway, so we had a little time to tour around before we could check into our hotel in Charlottetown.
Here is the mini PEI road trip we took:
If you have extra time, I hear Blooming Point is beautiful and not that far out of the way. We didn't get there because we were all totally exhausted and ready to check into the hotel.
We drove into Charlottetown that evening to look around, but it was raining and I'm disappointed to say we didn't stay long.
The next morning we left, and we drove by Victoria-by-the-Sea and Argyle Shores — both definitely worth a visit!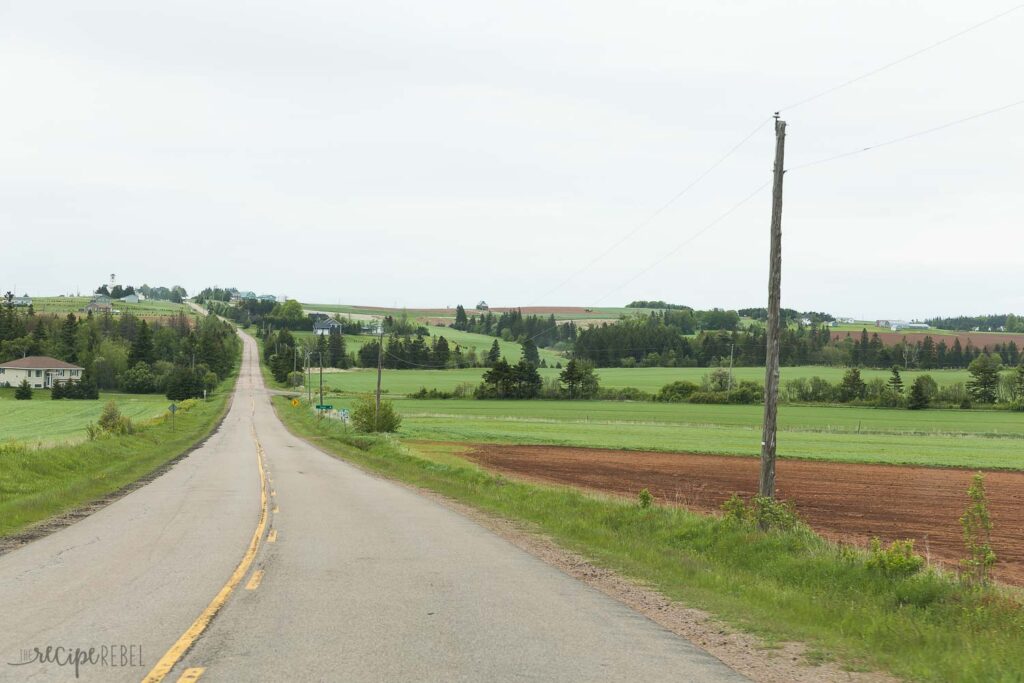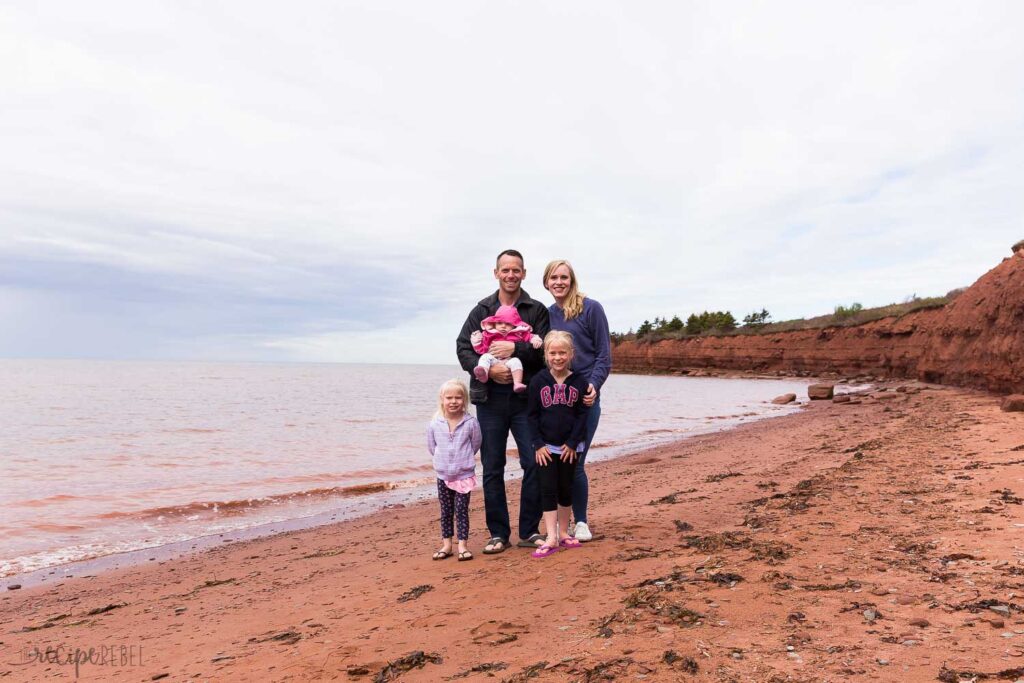 Stop 3: Saint John, New Brunswick (1 night)
If I'm totally honest, this was just a rest stop because it would have been too far for us to get to Maine in one day. On our way to Saint John we stopped for a couple of hours at Hopewell Rocks (a must see!), and only arrived at our hotel (the Holiday Inn) around supper time.
If you're planning to stay in Saint John longer, I highly recommend a jet boat trip into the reversing falls (I've done it before!) and going into Uptown Saint John for dinner and wandering. It's a beautiful area!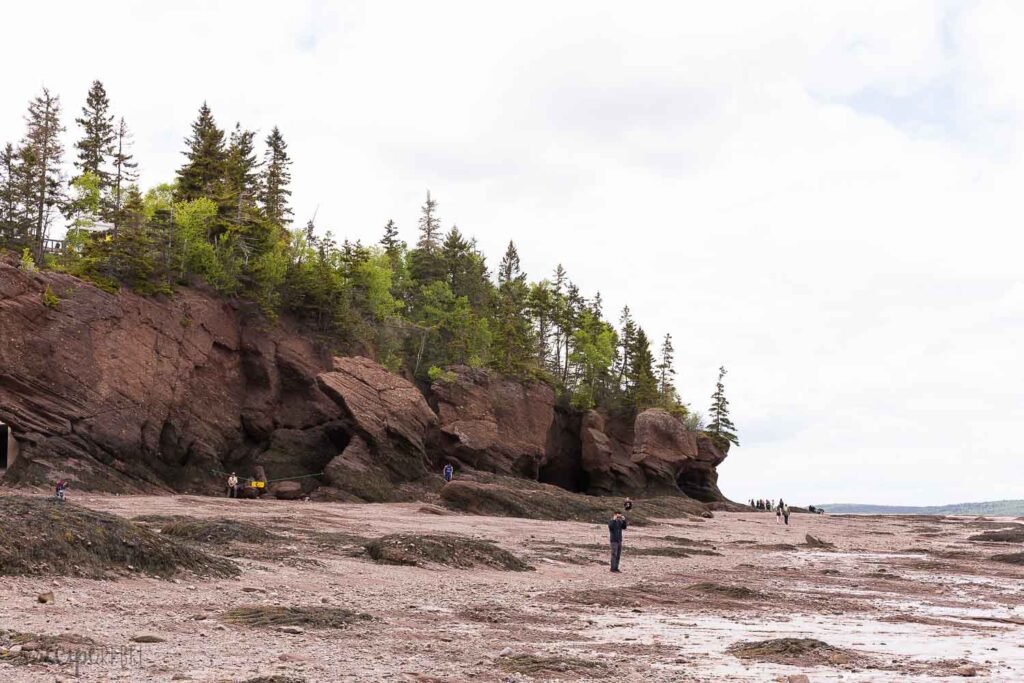 Stop 4: Bar Harbor, Maine (2 nights)
We arrived at our hotel in Bar Harbor (the Acadia Inn) early enough for us all to get a 3 hour afternoon nap in, and it was glorious, you guys.
We were all so desperate for some rest by this point in our East Coast Road Trip that it was amazing. Thankfully they let us into our room early!
Bar Harbor is the cutest little coastal town on Mount Desert Island (check out this post for a more detailed look at Bar Harbor sights, restaurants and hotels!), but it is incredibly touristy. If this isn't your thing, stick to one of the quieter towns along the coast.
During our stay in Bar Harbor we drove the Park Loop Road in Acadia National Park (and made all the recommended stops along the way!), and we wandered around the shops in town, down to the waterfront, and basically just gawked at all the beautiful things and ate ice cream from Mount Desert Island Ice Cream (do it).
When we left Bar Harbor, I had planned a stop in Camden, Maine at lunch, and I'm so glad we did. It is another little gorgeous town, and we ate at the Camden Deli that sits right overtop a waterfall that flows into the marina. It is a gorgeous spot and was such a relaxed meal to enjoy with the kids (they even have PB&J on the menu! Lol).
There are a ton of beautiful places we skipped on this leg: Portland, Old Orchard Beach, Kennebunkport to name my top 3, but when travelling with kids as young as ours, it's important to have reasonable expectations and we just didn't think it would end up being that enjoyable considering the time we had.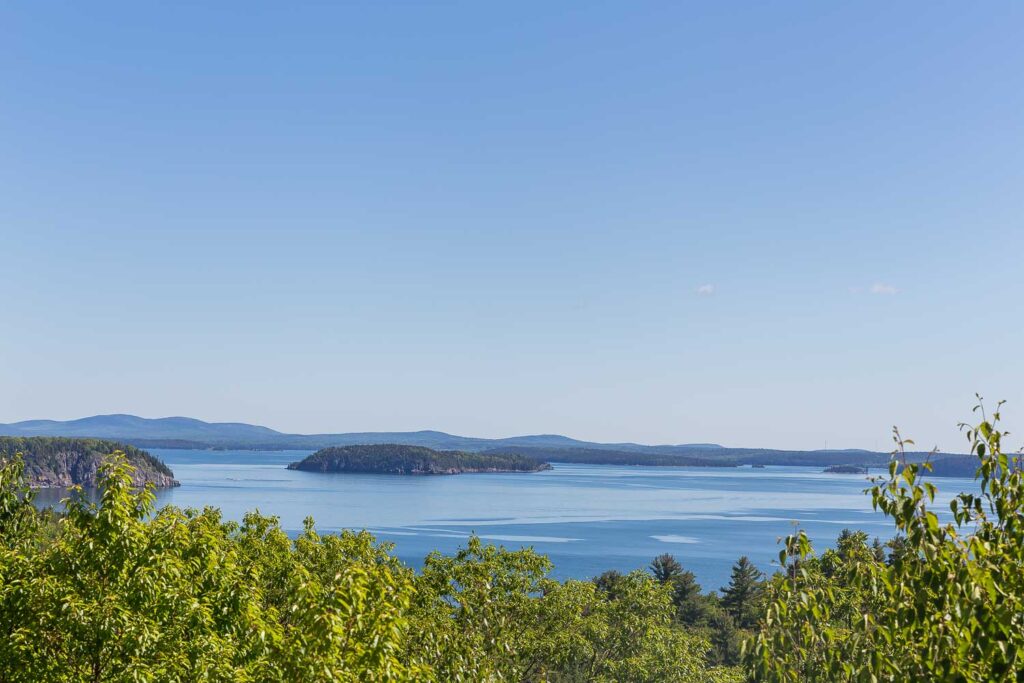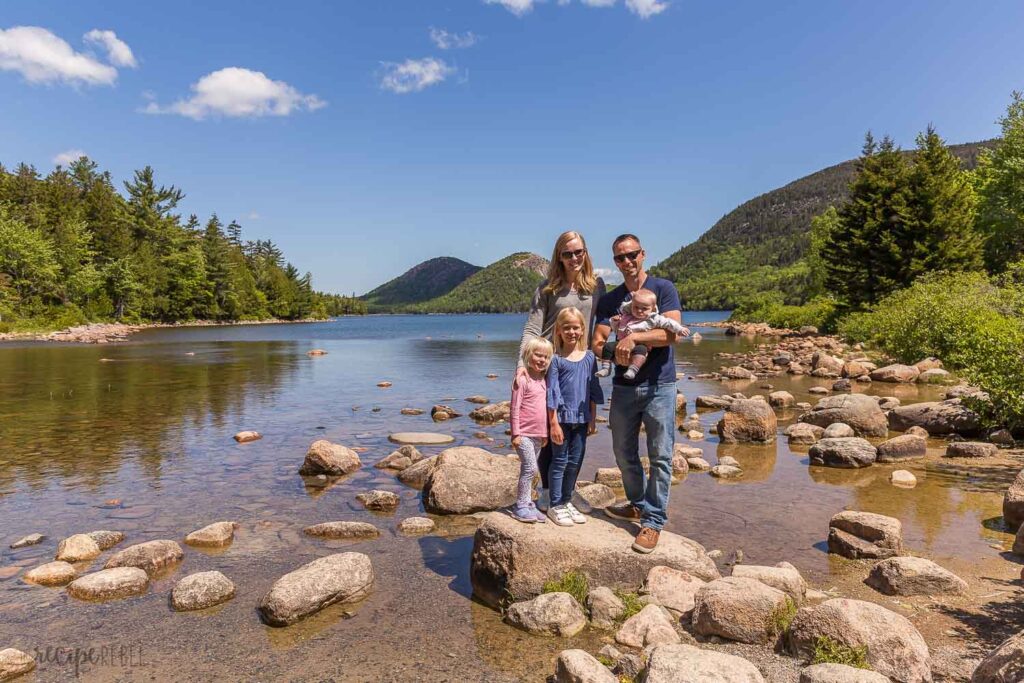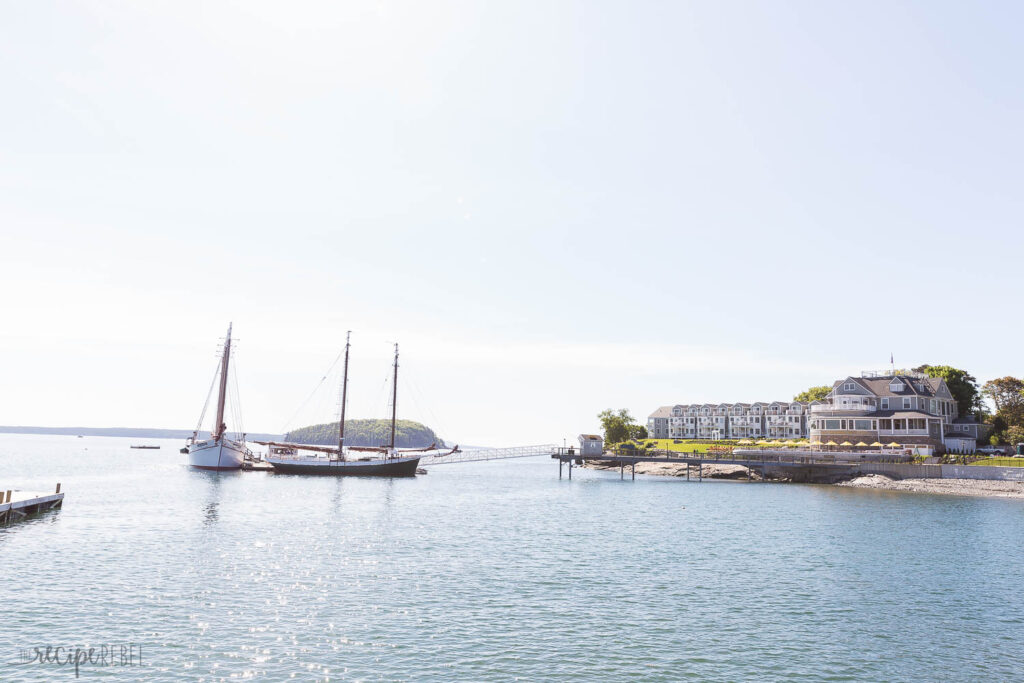 Stop 5: Ogunquit, Maine (1 night)
We could have stayed in Ogunquit longer, it was so beautiful.
The vibe is awesome (more on Ogunquit coming soon!), relaxed, coastal beach town, but most things are within 10-15 minutes walking distance.
We stayed at the Sea Rose Inn and Suites, and had a one bedroom town house with full kitchen and 2 bathrooms there. We loved it, and it put us smack in the middle of great shopping and the beach at one end, and Perkins Cove and great shopping on the other end. It was an easy walk in either direction and we really enjoyed our stay.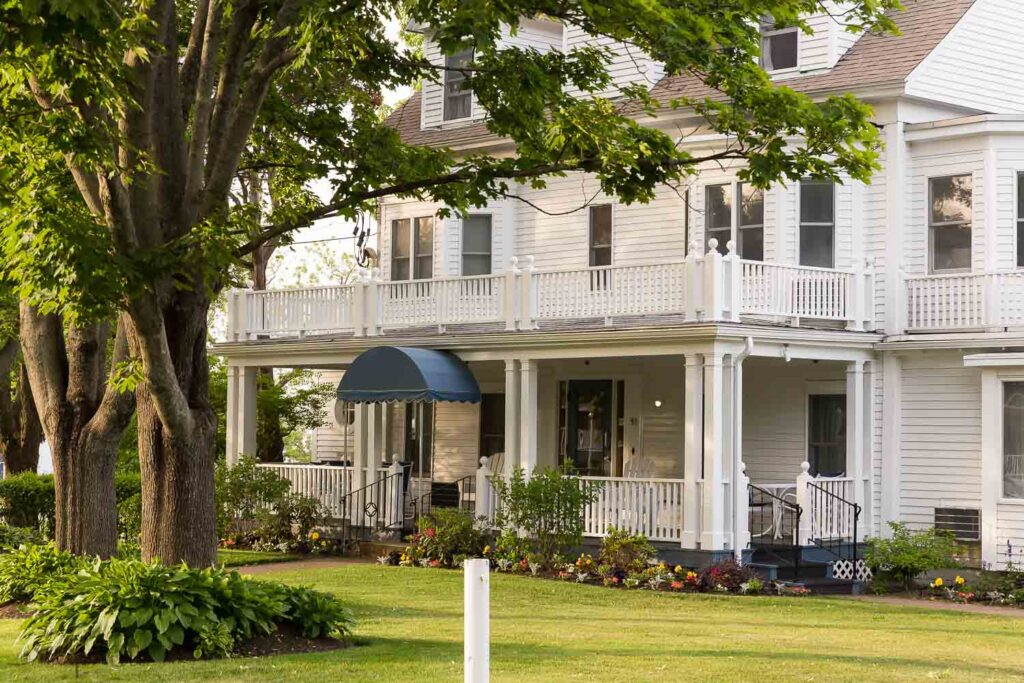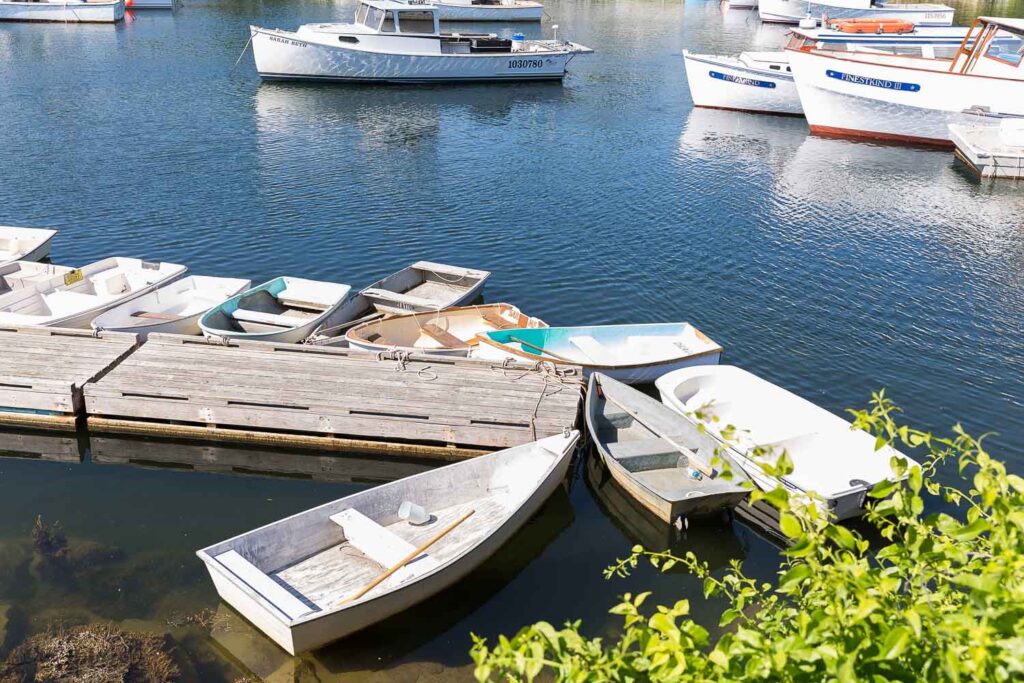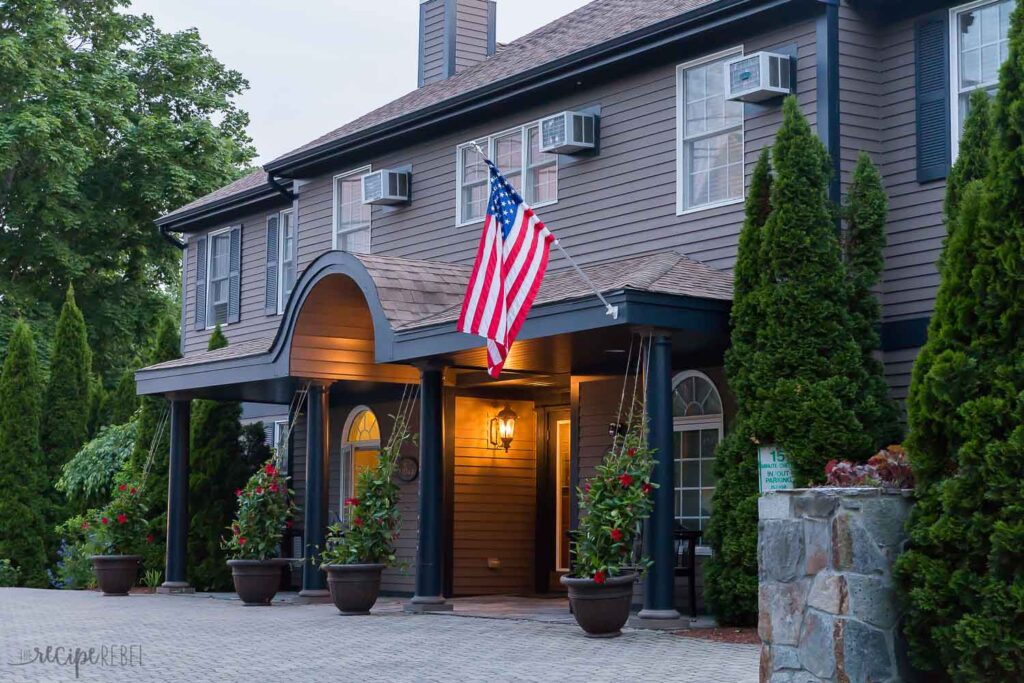 Stop 6: Holiday Inn Club Vacations, Mt. Ascutney, Vermont (2 nights)
Since it would have cost us $2000 more to leave our rental van in another country, we decided to drive back up North to Montreal instead of flying out of Boston as our original plan was.
For this reason, we needed to find a hotel somewhere in between that would break up our travel days.
When I discovered the Holiday Inn Club Vacations at Mt. Ascutney, we decided to give it a go as the rooms are incredibly spacious (apartments, really) at 1000 square feet for a 2 bedroom, with 2 bathrooms, a full kitchen and dining room and living room. The resort has an indoor and outdoor pool, movie theatre, tennis courts, playground and more. We decided to book 2 nights here so we could just relax and recover at the resort before we made the trek home, and we loved it.
There wasn't really much we intended to see or do here other than relax — we brought groceries and cooked our meals in the kitchen, ate without worrying about how crazy our kids would be, and napped.
The last morning, we drove up to Montreal (with a quick pit stop at Ben and Jerry's in Waterbury, of course) and just barely made our flight because the traffic, you guys? Totally ridiculous.
Being a country girl, I underestimated the time it takes to drive just a few miles at 5:00 pm on a Friday in June in Montreal. (and this is why I will always be a country girl).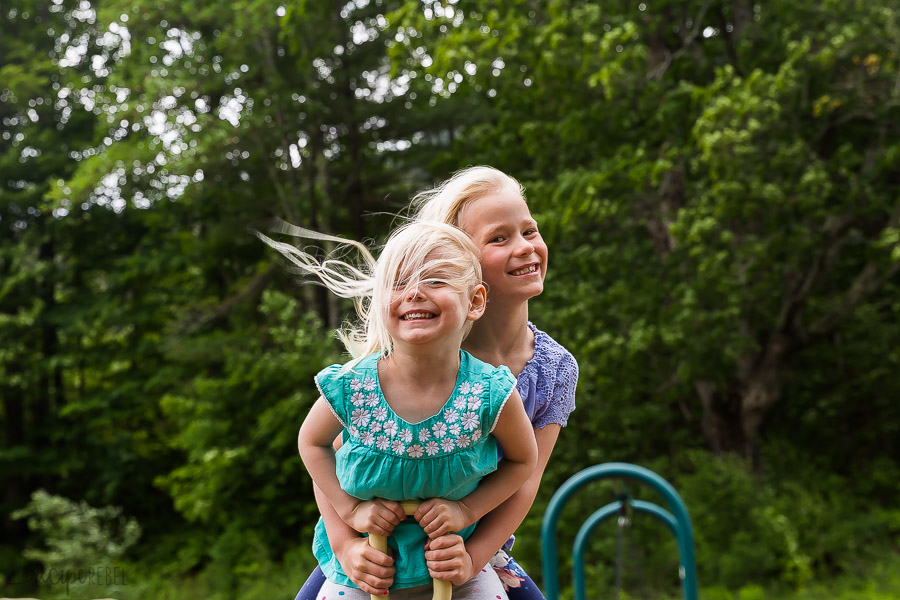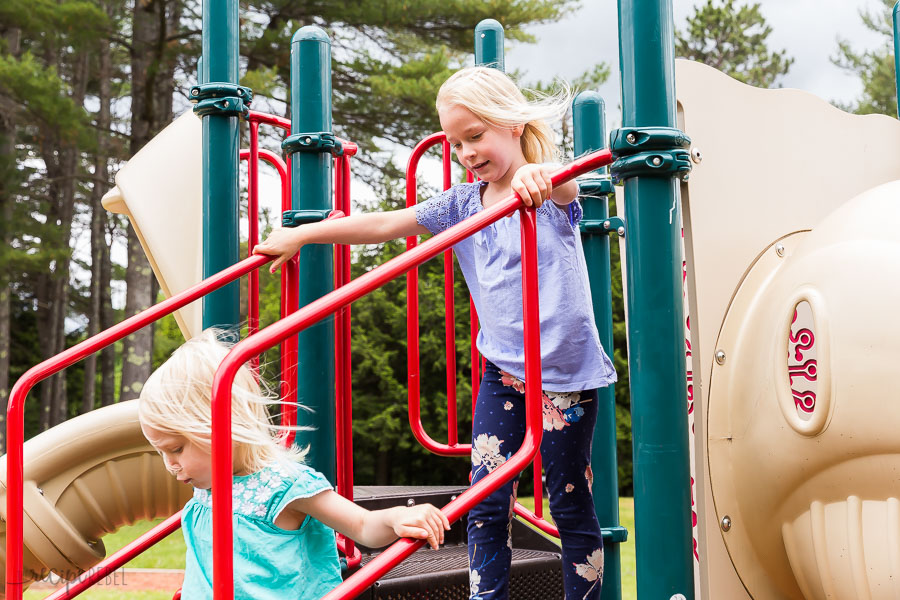 What would we do differently on our East Coast Road Trip?
All in all, we were gone 10 nights and although it was a good length of trip, it was pretty busy, especially with the kids being so young. If we were to do it again, we would likely aim to see a little less and rest a little more.
Our favorite places were Halifax (and Nova Scotia in general), Charlottetown (and PEI in general), and the coastal towns in Maine. We could have easily spent more time in each of these places, but we only had a limited time and wanted to see as much as possible.
Honestly, we don't mind doing quick trips like this East Coast Road Trip because it gives us a chance to see which places we'd like to go back to just to stay sometime. We could easily spent a week in any of the above locations, sightseeing and relaxing and taking in all the beauty.
If you haven't been to PEI before, you'd definitely want to spend more than 1 night there. Since I had already been and have done all the classic touristy things, and my husband didn't want to visit Green Gables or anything like that, we figured one night was enough.
Best Road Trip Snacks:
Snacks were key on our East Coast road trip with the kids! Snacks just make people happy, including myself (what can I say??).
Here are some of our favorites for easy packing:
cheese strings
cheese and crackers
fruit gummies or licorice — something chewy for taking off and landing on the airplane!
yogurt covered pretzels
yogurt covered raisins
nuts and trail mix – filling and high protein!
granola bars
fruit roll-ups (the kids love them but don't get them often!)
Best Road Trip Activities:
Since our kids were just constantly flip-flopping between snacks and activities (and car-napping!), I had a ton packed. Too many actually, and we have some brand new ones they haven't even seen yet (we'll save those for the next time I need them!). But I was really happy with the things I found and wanted to share:
small puzzles in a travel tin
travel games and mini Uno cards
books of mazes and connect the dots
Spelling practice books
Notebooks, new markers and stamps — honestly, this is what they used the most!
necklace links
the iPad, loaded with downloaded tv shows and games, plus headphones
Other Road Trip Essentials:
Because we knew we were going to have our hands full with 3 kids in the airport, we didn't want a bunch of luggage we'd have to drag along, too. We all carried a backpack (except the baby!), and the kids had easy access to their things.
In the kids' backpacks we packed (along with snacks and a few activities — the rest were in dad's bag!), an empty water bottle for filling after security, a snuggly blanket, a sweater and a change of clothes.
We also bought a folding camping wagon this year, mostly to use with the kids instead of a stroller, and we are obsessed. It's big enough that our 7 month old could nap in it, and we use it as a playpen for her when we're outside, just sitting her up and giving her a few toys. It was perfect for dragging kids around the airport who were too tired, or backpacks, jackets, and our car seats, etc., before we got them checked.
Considering how small it folds up, I would say it's a definite must if you are doing a road trip with kids!