3 Day Camping Menu Plan with lots of different camping food ideas, a shopping list, and tips for storing food and making it last!
Camping season is in full swing, and although this year may look different than we had hoped, we are making the most of the summer by getting out camping as much as we can.
This year, I vowed to get more creative with our camping food, and try out some of the most popular camping food hacks to see what our family loved, and what was a pass (or just more work than we want to put in when we go camping).
Prepping camping meals can feel like a daunting task, but it helps if you are organized!
I wanted to share our camping menu plans this summer to help you get some ideas, and also to share tips for storing and cooking food whether you're in a tent with a cooler, an RV with electrical hook ups, or anything in between!
General Camping Food Tips:
You can get as creative as you want with your camping food, but here are a few tips for prepping your camping food to make it more enjoyable once you're out!
What ingredients can be doubled up for multiple meals? Simple things like a large bag of shredded cheese, a bottled sauce or condiments, or a loaf of bread or bag of buns. Grabbing one ingredient that does double (or triple!) duty can be a big time and space saver.
What can be completely cooked ahead of time and simply reheated? If you are reheating food, you have a lot more flexibility as to how it will be stored or cooked and it will make your time away much more relaxing!
What kind of cooking dishes and utensils do you have at your disposal? Do you need to plan for cast iron cooking? Foil packs? Only on the campfire, or only on a barbecue or stove?
How long do you need to keep food for? Are you stuck with a cooler and ice or do you have a fridge or freezer? Different foods have different life spans outside of a refrigerated environment.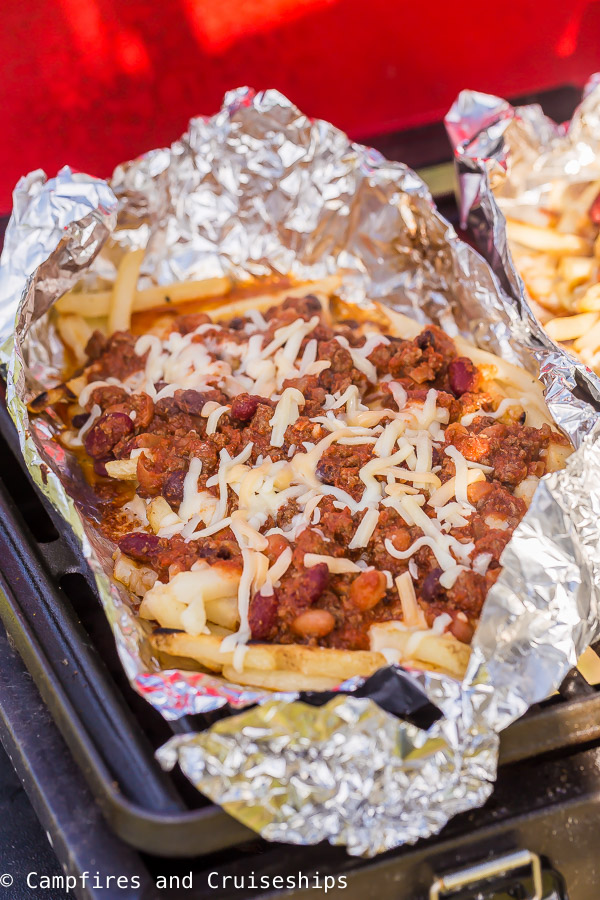 How this Camping Menu works:
Since we're not able to go very far this summer, we are booking longer weekends camping than we normally would.
Therefore, all of my camping menu plans are for three days, which gives you (usually) 3 breakfasts, 3 dinners, and 2-3 lunches.
Normally, we pack up and leave just after lunch on our third day, so we take that opportunity to use up the bits of leftover food from previous meals or use extra ingredients to prepare the same meal for two lunches.
I like to plan in terms of type of meal, rather than by day, so I can cook according to what we feel like that day.
I've included my lists by meal, and also by day so you can choose what works for you.
You can obviously take what you like, and leave what you don't, from these menu plans, but here is a simple list to give you an idea and help you get started!
At the end of this post I will give you a camping menu plan grocery list to help you stay organized.
3 Day Camping Meal Ideas:
Camping breakfasts:
Banana Bread and fruit (pineapple, grapes, apples, bananas)
Yogurt parfaits with Greek yogurt and berry sauce in small mason jars, along with a bag of granola
Pancakes (I grabbed a big box of Kodiak cakes from Costco — these are great for quick breakfasts and you only need to add water) plus the same berry sauce used for yogurt parfaits.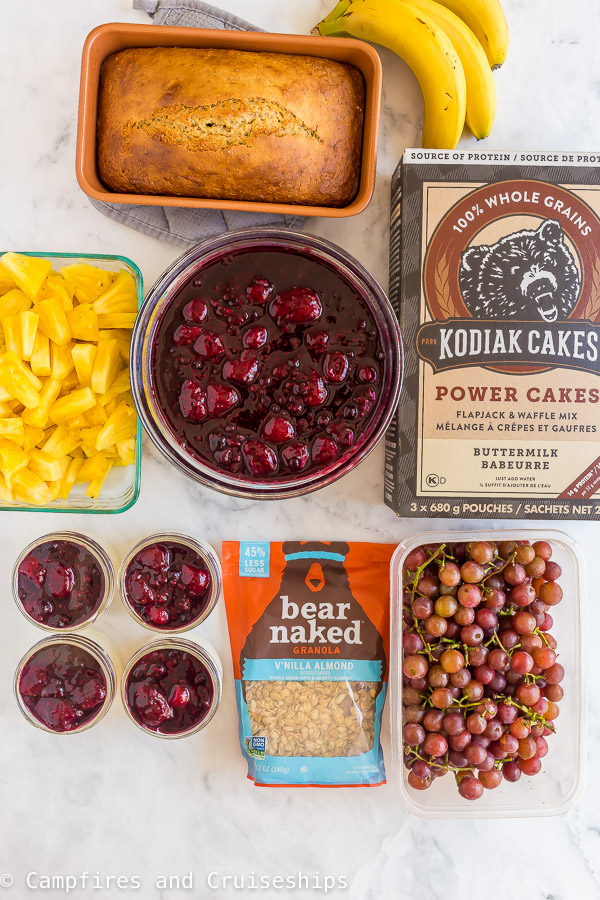 Storage:
The fruit and yogurt need to stay cool, so I recommend storing these in the refrigerator or at the top of your cooler or in a cooler bag with ice packs if the refrigerator is not an option.
If you need to keep things cool, or store them longer, the berry sauce can be frozen in small freezer bags to use as ice packs and can quickly be thawed in warm water.
Camping lunches:
Sandwiches and Coleslaw
Mini Naan Pizzas – mini naan bread rounds, pizza sauce, shredded cheese, and pepperoni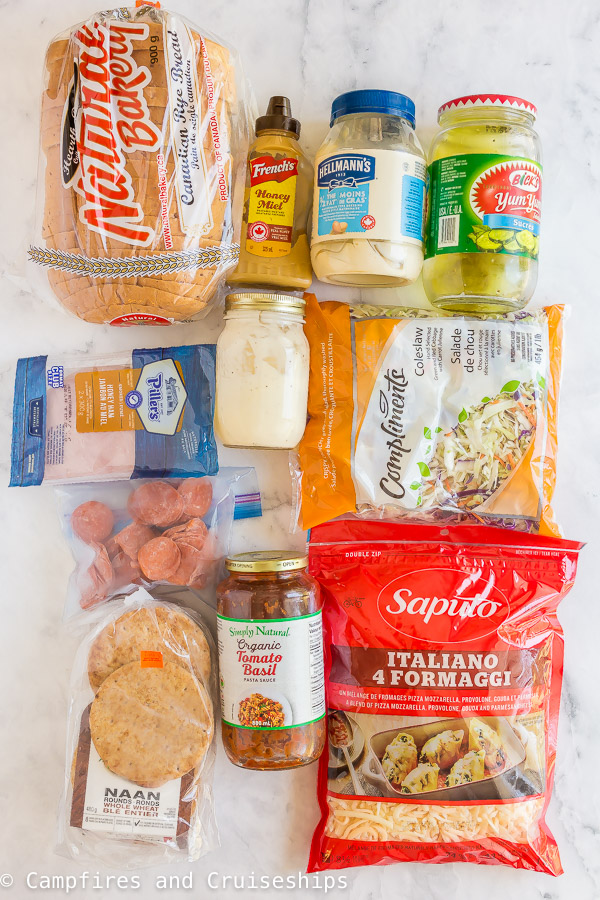 Storage:
Bread and naan rounds can be stored at room temperature for several days.
The condiments, deli meat, coleslaw mix, dressing (if homemade or opened), pizza sauce (if opened), cheese and pepperoni do need to be refrigerated or kept cool.
If you're short on cold storage space, purchase an unopened bottle of coleslaw dressing and pizza sauce and store these at room temperature.
To keep things cool longer, shredded cheese and pepperoni can be frozen and used from frozen.
Camping dinners:
Hot dogs – with buns, condiments, chips on the side
Chili Cheese Fries – frozen fries, chili (a freezer bag of frozen chili or canned), shredded cheese
Chicken Parmesan Foil Packets – with little potatoes, pizza sauce, shredded cheese.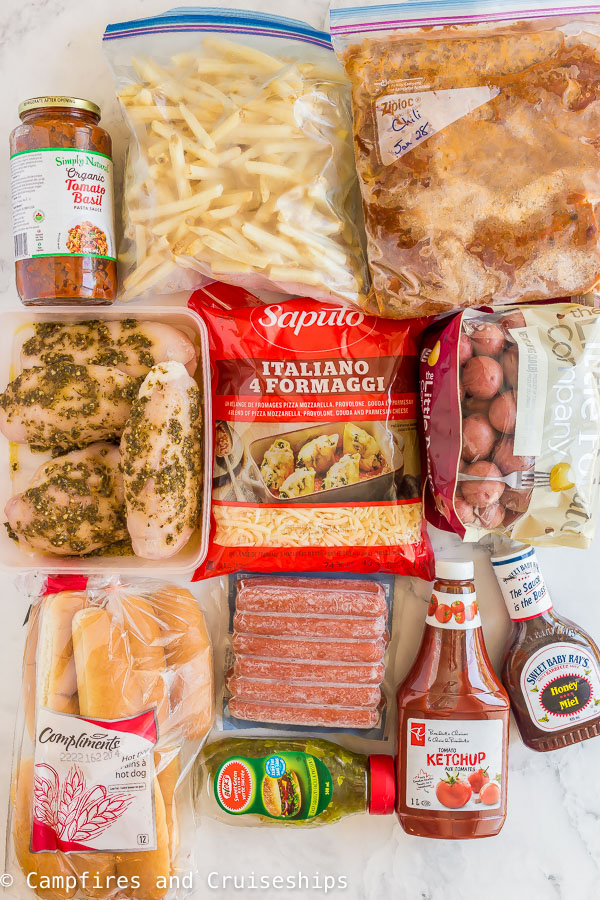 Storage:
Buns, chips, and potatoes can be stored at room temperature.
Hot dogs, chili, fries, and cheese can be stored refrigerated or frozen. Chicken can be stored with marinade either refrigerated or frozen — I always marinate the chicken before leaving!
Sample 3 Day Camping Menu Plan:
Day 1 (half day):
Hot dogs for dinner with optional sides: chips, veggies, coleslaw, canned beans, etc.
Day 2:
Breakfast: banana bread and fruit
Lunch: Mini Naan Pizzas with optional sides: chips, veggies, salad, etc.
Dinner: Chicken Parmesan Foil Packets
Day 3:
Breakfast: Yogurt parfaits with granola
Lunch: Sandwiches with optional sides: chips, veggies, coleslaw
Dinner: Chili Cheese Fries
Day 4:
Breakfast: pancakes with fruit (syrup or whipped cream optional)
Lunch: leftovers or whatever is left from another meal we can remake
Camping Menu Plan 1: Grocery List
Banana bread or muffins
Loaf of sandwich bread
Mini naan rounds
Hot dog buns
Fruit: cut pineapple, grapes, apples, bananas, oranges
Fresh or frozen berries or berry sauce for parfaits and pancakes
Bag of coleslaw mix
Little potatoes
Onion and zucchini for foil packets (optional)
Granola
Pancake mix
Pancake syrup (optional)
Bottle of coleslaw dressing
Condiments for sandwiches: mayo, mustard, pickles, cheese slices, as desired
Pizza sauce
Condiments for hot dogs: ketchup, mustard, relish, barbecue sauce, as desired
Frozen fries
Can of chili or homemade, frozen in a freezer bag
basil pesto
Vanilla Greek yogurt
Large bag of shredded cheese
Deli meat for sandwiches
Pepperoni slices
Hot dogs
Chicken breasts
Optional snacks and sides:
chips
veggies
cans of beans
bagged popcorn
supplies for s'mores