These Campfire Cones are one of our favorite summer treats! I'll show you how to put together a campfire cones bar, with all your favorite s'mores flavors and some new ones!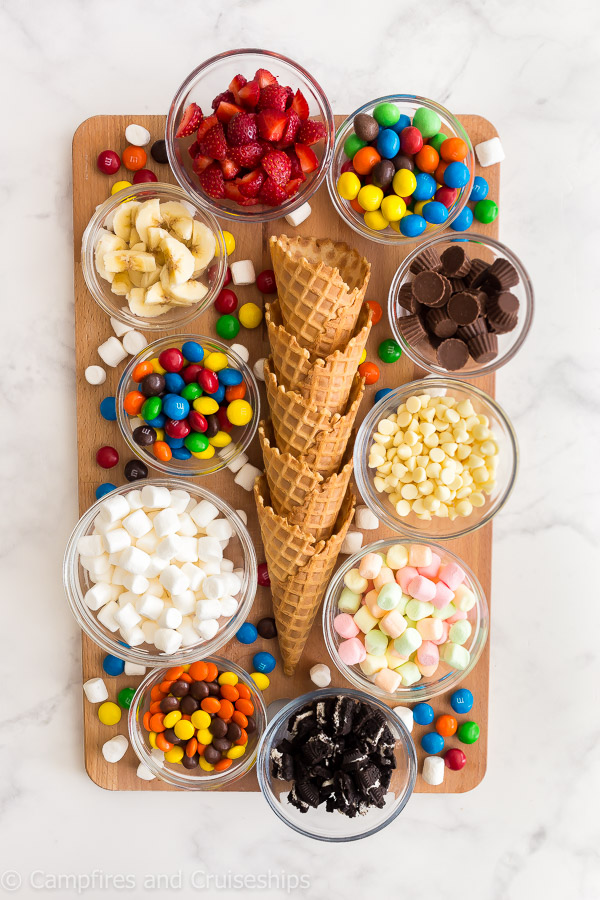 Campfire cones are so easy to make, and so fun to eat!
We love making a big board with lots of different filling options, letting the kids make their own, then wrapping them up and sticking them on the fire.
There are three main ingredients, and other than that you really can throw in almost anything you want!
Campfire Cone fillings:
Campfire Cones are a fun twist on s'mores, so we like to start with:
waffle cones
chocolate chips
mini marshmallows
But there are so many fun ways to mix them up!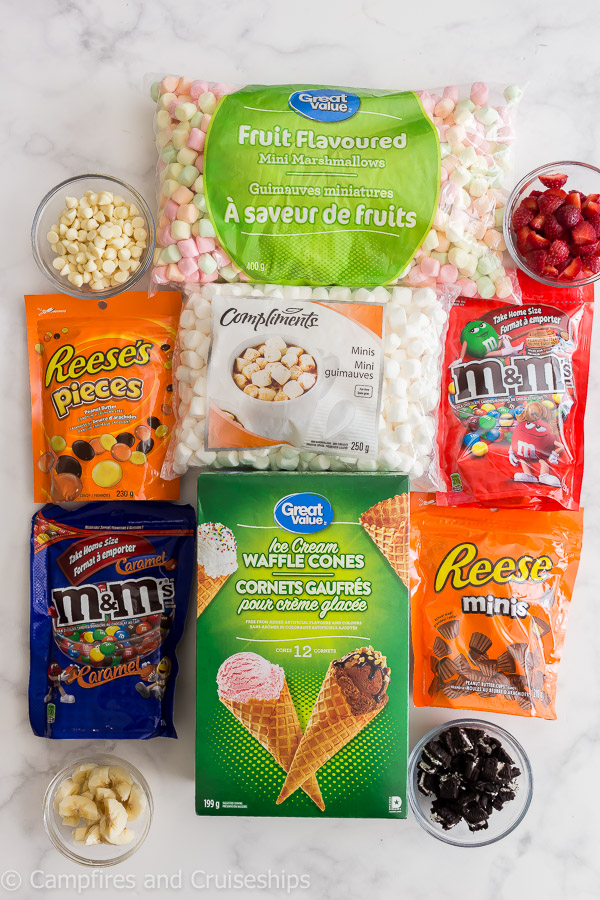 Grab a sectioned platter or just small bowls, throw them on a large platter and let everyone make their own.
chopped pretzels
peanut butter
Reese's pieces
Reese's peanut butter cups
chocolate covered peanuts
jelly beans
M&Ms
skor bits
Rolos
Salted caramel chips
white chocolate chips
chopped strawberries
chopped bananas
colored or fruit-flavored marshmallows
chopped or candied nuts
Nutella
Strawberry jam
Tips for the best Campfire Cones:
Here are a few of our tips for the best results:
Waffle cones or sugar cones work best as we can fill them right to the bottom
Start with a few mini marshmallows in the bottom — they will melt and seal in all that other deliciousness!
Alternate your mix-ins with mini marshmallows — the marshmallows hold everything together and keep your campfire cone from becoming a big mess
Wrap tightly in foil. You could spray with foil with non stick to prevent the marshmallow from sticking, but we don't usually because we don't have many issues with sticking.
Don't cook too hot: stick to a cooler area in your fire pit, on the edge of the fire grate, or skewer your foil on a roasting stick and hold it over a large fire.
Rotate and check every few minutes — our goal is just to melt our filling, not to burn the cone.
*The amount of time required over the fire will depend on how hot your fire is and where your cones are — ours usually take from 4-8 minutes.
Can I bake Campfire Cones?
No campfire? No problem!
You can wrap your cones in foil and bake at 350 for 5-10 minutes, just until the filling is melted and warmed through.
Let cool slightly before eating.
Can I microwave Campfire Cones?
In a pinch, sure!
If you have a desperate need for a campfire cone and don't want to start a fire or turn the oven on, you can microwave them.
If you do, I recommend standing your cone up as your filling will spill out if laying down, and you can't microwave in foil.
Try standing your cone up in a mug or cup and microwaving on high in 45 second intervals until melted.
Sample Campfire Cones:
You can always stick with the classic chocolate and marshmallow combo, but we love mixing them up!
Here are three of our favorite campfire cones:
Cookies & Cream: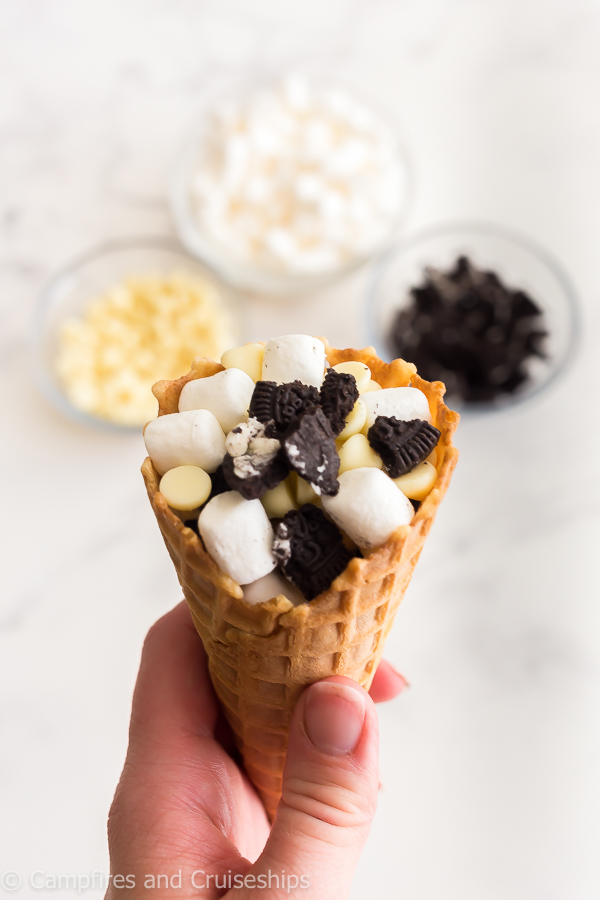 For a Cookies and Cream Campfire Cone, use white marshmallows, white chocolate chips, and crushed Oreos.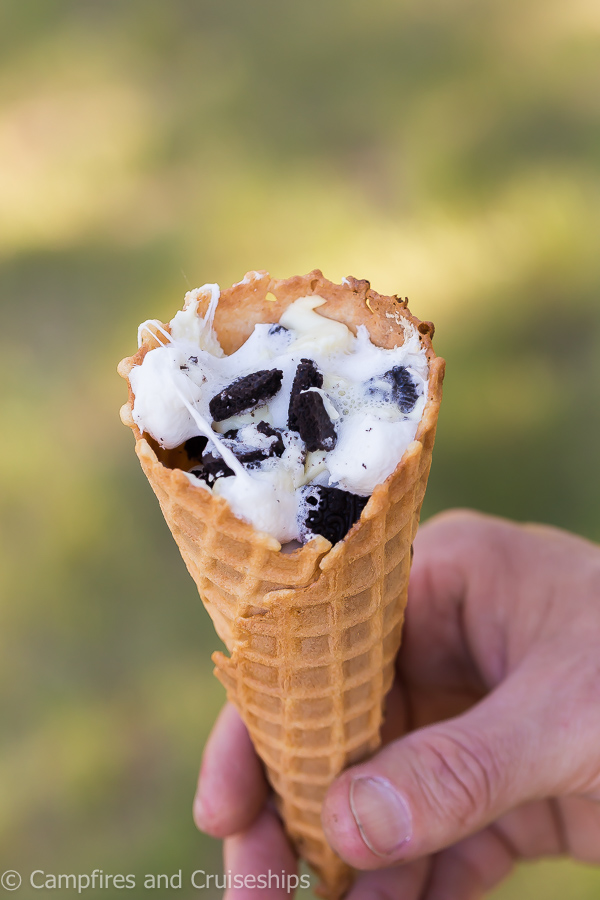 Strawberry Banana: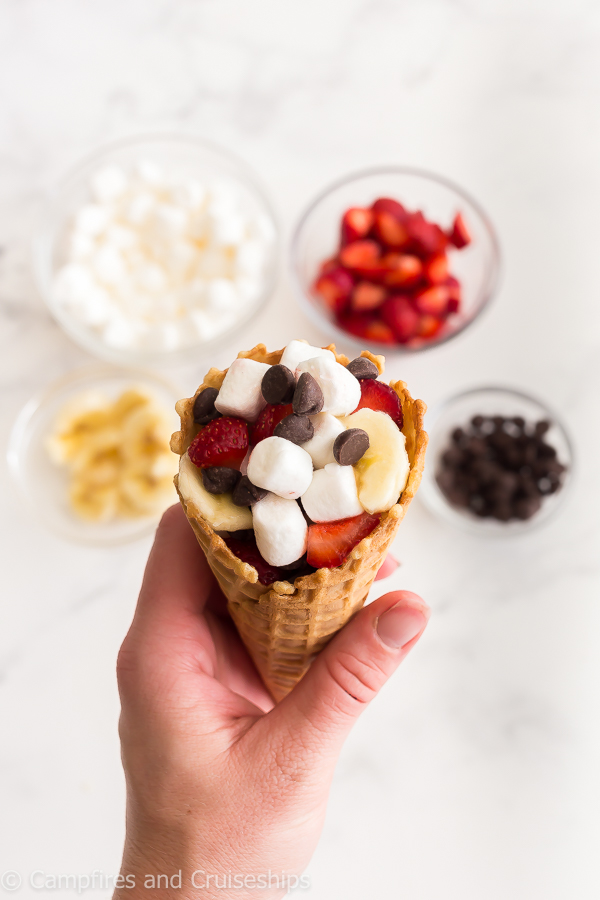 For a Strawberry Banana Campfire Cone, use chopped bananas, chopped strawberries, mini marshmallows and chocolate chips.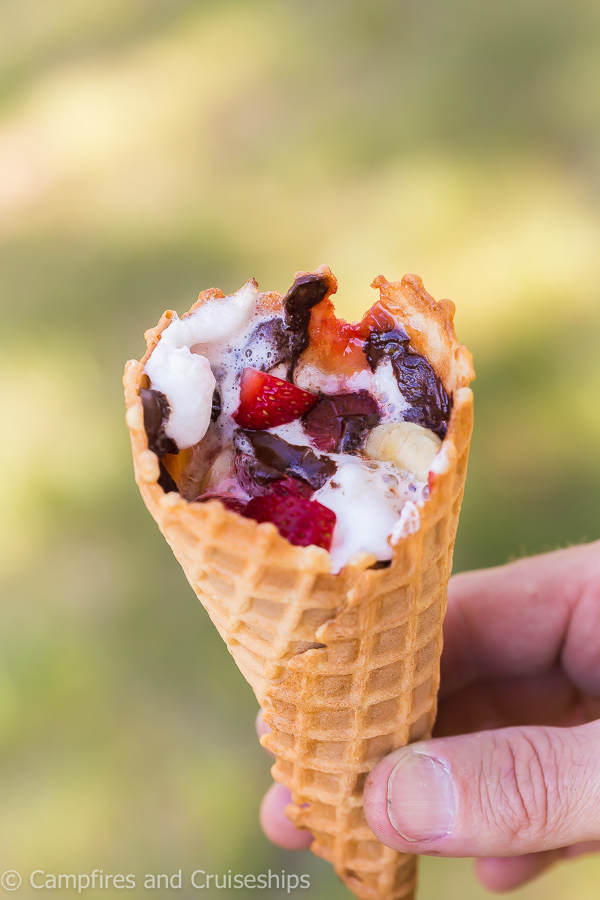 Everything Goes!
The kids' favorite!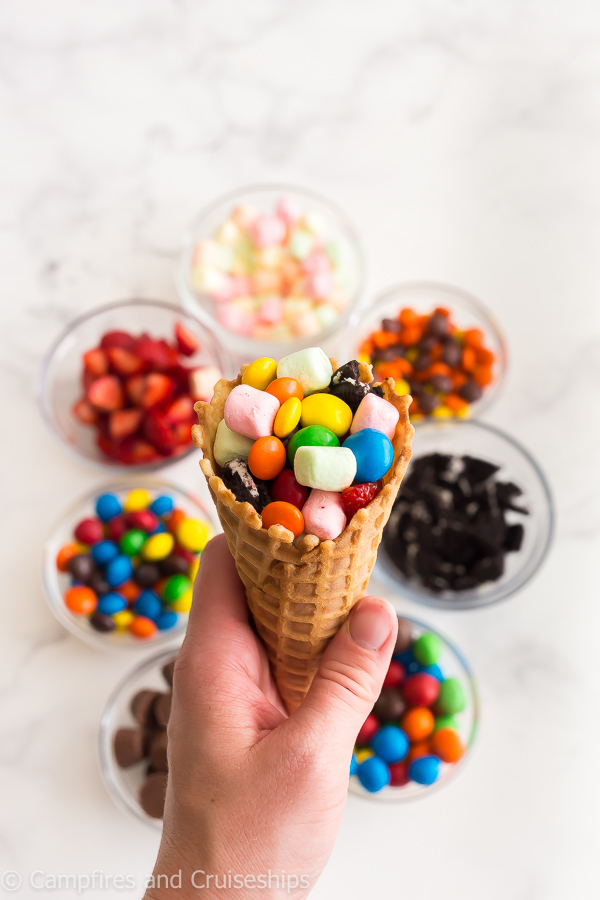 For the Everything Goes Campfire Cone, throw in whatever you've got! We used colored marshmallows, peanut butter M&M's, peanut butter cups, caramel M&M's, strawberries, Reese's Pieces and crushed Oreos.